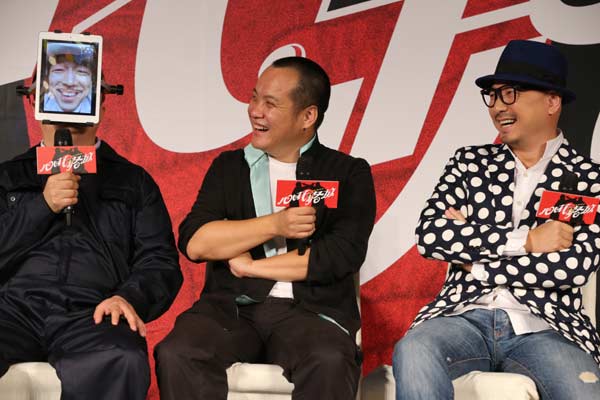 Ning Hao (middle) and Xu Zheng (right) at the press conference of their new film on April 24. [Photo by Jiang Dong/China Daily]
Director Ning Hao's new film will be a road-trip comedy starring his long-time partner Xu Zheng and Huang Bo.
Although the cast remains the same as Ning's last film No Man's Land, Ning says it will be a totally different movie in genre and style. While No Man's Land was set in the remote gobi desert in Xinjiang, the new film, which has not been officially titled in English (the title literally means Joy on Journey), is one that features a metropolis China.
Huang plays a man who started the journey in huge frustration in marriage, together with his friend and a dog. There will be many creative jokes, said Ning, which he wanted to use in No Man's Land. Ning, 37, rose to fame with black comedies such as The Crazy Stone and The Crazy Racer. His visual style and narrative have been frequently compared to Guy Ritchie and Quentin Tarantino. The film will premiere on Sept 30.