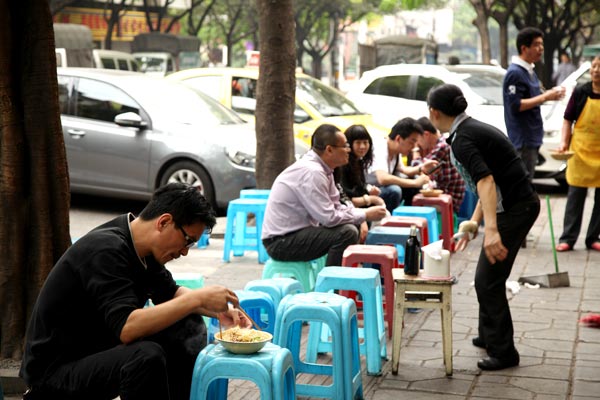 Local residents eat xiaomian at a street-side noodle restaurant in Chongqing. [Photo provided to China Daily]
Li Jieping, an enthusiast of Chongqing xiaomian, has spent the last two years tasting at 130 to 140 Chongqing noodle restaurants in Southwest China's Chongqing municipality.
"Many people took me as a mad person after hearing about my story," Li says. "Actually, they are right. I am mad about Chongqing xiaomian."
Xiaomian literally means small noodles. But in Chongqing, xiao does not refer to small or tiny, rather it's an endearment, indicates locals' love for the noodle that cooked with as many as 13 to 15 kinds of condiments.
The noodles become the subject of a 48-minute documentary called Hey! Xiaomian, broadcast on Nov 21 on CCTV-9, the documentary channel of China Central Television.
Following the popular food documentary A Bite of China, it is another food documentary by CCTV introducing characteristic regional foods that inspire great passion.
The director of the documentary, Chong-qing-born Zeng Lei, says he was deeply touched and motivated by this food mania.
"It is not easy to explain why Chongqing people love their xiaomian so much," Zeng says. "And it is this very reason that I wanted to film the documentary."
At the beginning of the story, Li is intrigued by the 'Top 50 Noodles' list made by a local newspaper and people in Chongqing. As a noodle fanatic himself, he decided to taste all of the noodles on the list.