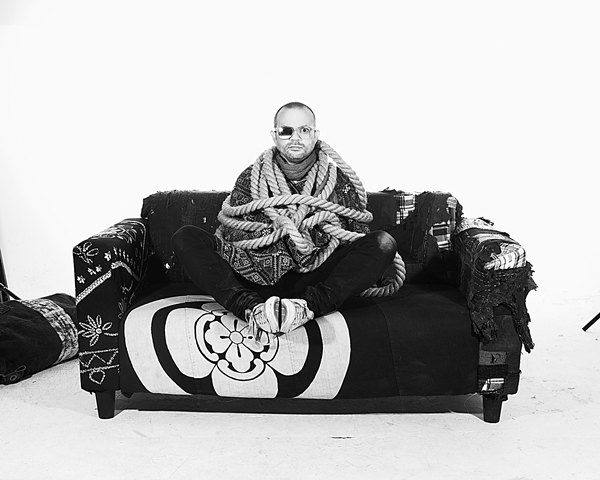 Fashion designer Danny Bartlett wants to give his products away for free and make profits at the same time. [Photo by Takky Pictures/For Shanghai Star]
It's a radical concept - designer clothes that cost nothing. But the men behind the new brand, Everyone Lives, insist it can be done. Yu Ran finds out more.
Want to wear designer clothes but without the price tag?
Designer threads that cost nothing to the consumer is the radical concept behind Everyone Lives, a new fashion brand from Belgian art director Maurice Latzke and British fashion designer Danny Bartlett.
How they can earn money from giving away clothes for nothing remains a secret, but all will be revealed at the label's formal launch in April.
"Why can't everyone have the chance to wear high-quality clothes with designer cuts? We are trying to satisfy everyone including us with this revolutionary new business model," says Latzke, who came up with the apparently simple concept.
There will be no permanent shop, only seasonal pop-up spaces, that can only be found by people willing to follow a series of clues.
"It will be difficult to find our store, which will be hidden away from the crowds and change seasonally. Let's see how keen you are to find the products, and then you will really appreciate the high quality when you own them," says Bartlett, who has worked as a fashion designer for 20 years.
Their business strategy involves "popping up" for one day, then disappearing anywhere from one day to several weeks later. Pop-up retail, which is quite popular in Western countries, allows a company to create a unique environment to engage their customers and experiment with ideas and stock.
It is the second time Latzke and Bartlett have worked on a fashion related project in the past decade. Since their last project they have both traveled to different places around the world and have re-united in Shanghai.
Everyone Lives is a multidisciplinary brand that creates high fashion with traditional roots. It is targeted at young people aged from 18 to 35. Its products, including clothes, jeans, accessories and furniture, are made from mixing the traditional craftsmanship of Japanese indigo boros with modern takes on furniture classics.