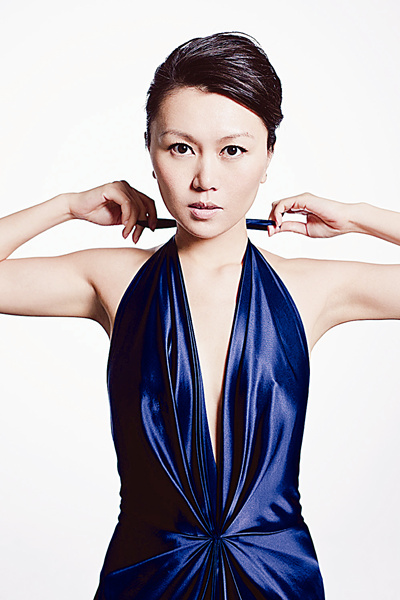 Tina Fu, the Hong Kong fashion designer who builds her fashion business in Shanghai. Photo provided to Shanghai Star
It is, says designer Tina Fu, like having 14 brides on the one night. But as she tells Xu Junqian, she is more than equal to the task of getting them all looking their best.
As the stylist and designer for some of China's most privileged daughters, Tina Fu believes the last thing she should do is cover them up to make them look innocent and pure.
"It would be like gilding the lily. What I am trying to do is to show off their youthfulness and every inch of glowing skin," says Fu ahead of the Shanghai International Debutante Ball.
Having worked with the white-tie ball since it's inception in 2012, Fu takes great pride in "stealing clients" from world famous fashion houses like Dior and Valentino.
"I know Chinese ladies' bodies better," says the designer. Ten years ago, Fu, who comes from a family that owns a factory in Hong Kong, quit business management, a subject she never liked, and picked up her pencils.
Less than five years on, her Shanghai studio, Tina Couture, tucked away in a two-storey loft in the former French Concession, has became a hot spot frequented by local celebrities, brides-to-be, and unexpectedly, party-going expats.
"I guess it's because my designs are more simple and classic compared to most of the wedding gowns and dresses available in town," says Fu. "When you have the right design and the knowhow to make the design a perfect fit on the body, women, mostly born with an acute sense of fashion, come themselves."
Made-to-order dresses are priced from 20,000 to 50,000 yuan ($3,225 to 8,064) each, with no limit to fittings and alterations. She is best known for three-dimensional ornaments like peonies made from folded organza and cascading ruffles. It usually takes a minimum of one month to finish a big dress.
Fu says she started designing the gowns for the 2015 Shanghai Debutante Ball the morning after last year's ball. She had a dedicated team of ten tailors and staff working exclusively for the 14 dresses to be worn by the debutantes.
"It's like having 14 weddings in the same room at the same time. You need to make sure every girl looks good, and when gathered, the beauty is not compromised or outshone," she says.