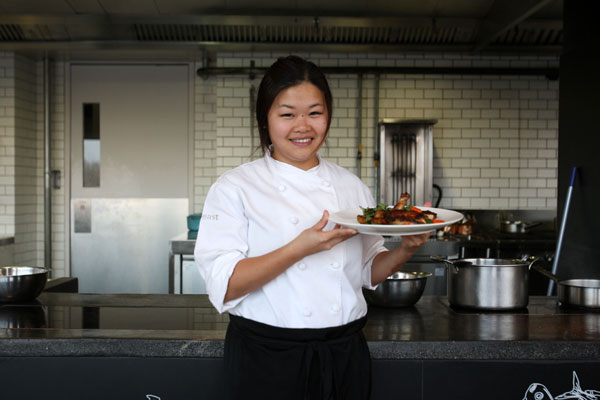 Sue Zhou merges Yunnan tradition with Western-style presentation. [Photo by Wang Zhuangfei and Mike Peters/China Daily]
Restaurateur Sue Zhou knows every farmer who supplies her kitchen and visits their fields regularly. Mike Peters reports.
"Chicken soup is really important," says the petite woman with a big smile, as she serves up what is any wise woman's remedy for anything that ails you. But this is no Jewish mother coaxing a sniffling child. Circling a table of eager foodies, chef Sue Zhou is handing around little steaming bowls of heaven, broth fragrant with lemongrass, mint, coriander and spring onion, with toasted strings of fried onion "for a little body and crunch".
If you came to Beijing eager to learn about China's many regional cuisines, chances are you already know Zhou. She's been a cooking-school headliner, whipping up the savory foods of Yunnan province at The Hutong center and elsewhere, sharing techniques and recipes on her website (suezhoudoesfood.com), and running a catering business based on her make-it-from-scratch mantra.
Most recently, she and her business partner, Yunnan native Wen Juan, opened Hani Gejui restaurant after a research trip to explore the dishes of one of the province's many ethnic groups. There is a plethora of good Yunnan eateries in the capital, but Zhou has made her small eatery a local favorite thanks to her artisanal approach on a small scale, and some innate advantages of the southern province's cuisine, drawn from more than 20 ethnic groups and a biological treasure trove from its mountains to its tropical zones. There's just too much variety to capture in any single restaurant.
Zhou, 34, has been alive to the possibilities since her childhood.