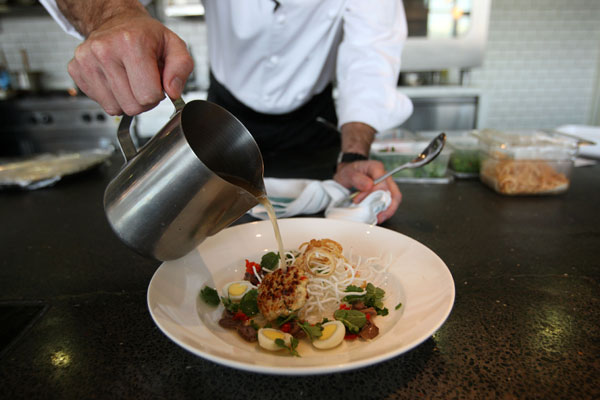 [Photo by Wang Zhuangfei and Mike Peters/China Daily]
The centerpiece of the meal - and the favorite at a tasting preview for media last week - is a braised chicken so tender we almost stormed the kitchen to see how the heck she and Cunningham did it. (The fowl is local, organically raised, and slow-cooked in three stages: brined with fish sauce, coriander, palm sugar and mint before being seared and then roasted. There are Yunnan-style potatoes on the side with soy paste and herbs, a dish that comes from the Dai ethnic group. Like in China's western regions, potatoes are a staple of Yunnan fare.
Tea, from farms to wild-grown, has been at the heart of Yunnan's agriculture for centuries. Glasses of the fragrant beverage are always at her table, and for the Carnivore's Club dinner she will use fine Yunnan teas to make three desserts, though such sweets are not really part of the regional cuisine. Green-tea ice cream is nothing exotic for diners these days, but tiny cubes of tea jelly cupped in delicate pastry packed plenty of subtle wow factor.
"I think we have to try out things and find out what we want to do and where our passion lies," Zhou says.
"In small villages in Yunnan they are still growing produce the old way, eating very seasonal and still using the artisanal way to preserve produce.
Besides," she says, a gleam of delight suddenly sparkling in her eyes, "how can you not love a place where they have cheese and ham?"
IF YOU GO
Hani Gejui
11 am-10 pm daily. 46 Zhonglouowan Hutong (just east of Beijing's Bell Tower).
010-6401-3318.
Carnivore's Club dinner
6:30 pm-10 pm, Saturday at Feast restaurant in East Beijing Hotel. 22 Jiuxianqiao Road, Chaoyang district, Beijing.
010-8426-0888