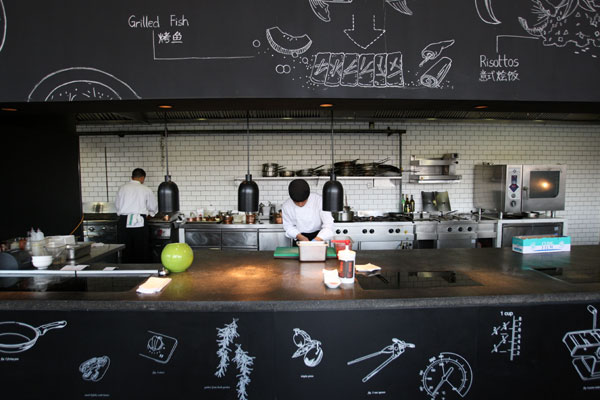 [Photo by Wang Zhuangfei and Mike Peters/China Daily]
"I was born in China," says the Zhejiang native, "but my family moved to the Netherlands when I was just 4." There, her folks opened an Indonesian restaurant that both drew on their own Chinese palates and embraced the flavors of Southeast Asia. Those flavors were familiar to the Zhous, thanks to nearby Yunnan, and to the Dutch, because Indonesia had once been a Dutch colony and traders had brought back the foodstuffs - and especially the spices - centuries earlier.
Working in her parents' restaurant kept her grounded in the culture of her close-knit family and stimulated her love of food.
Zhou came back to China to earn a degree at the University of International Business and Economics, then returned to the Netherlands to work for a European food-trading company. The job brought her back to China several times to visit factories and study the food-production process here, but eventually Zhou found that work tedious, and quit to pursue something more creative. That quickly led her from food factories to small kitchens, where she was right at home.
"I like to serve people the same food I would serve my friends or myself," she says, "so I really take care and take time to source my ingredients." They are organic and locally sourced whenever possible, including the greenhouse-grown okra currently being served at Hani Gejui. Other items, from all kinds of mushrooms to teas and flowers, come from the Yunnan heartland that inspires her menu. She not only knows every farmer who supplies her kitchen, she visits their fields regularly.
"You can be an amazingly talented chef," she's said in earlier interviews, "but if your base is crappy, you can't be talented. It's your foundation."
That commitment to basics is one reason Zhou has teamed up this month with her friend Rob Cunningham. The executive chef at the East Beijing Hotel has launched a Carnivore's Club series with guest chefs eager to preserve nose-to-tail consumption of farm animals and an appreciation of what we eat. Zhou's menu for dinner this Saturday night is based on chicken: the broth makes good use of the bird's heart and gizzard, while a sensational liver pate is topped with clarified butter infused with Sichuan peppercorn. Zhou may have a passion for tradition, but in this collaboration she fearlessly embraces fusion, too.