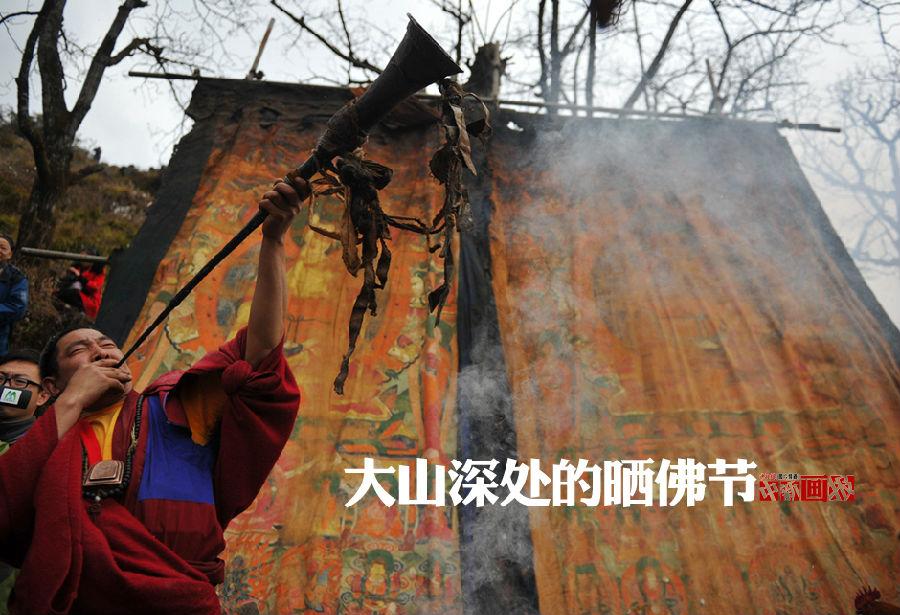 [Photo/ Chinanews.com]
In the remote mountain along the Dadu River in Sichuan province, there is a small village named Mengzhong. Every Nov 15 on the lunar calendar, Muya Tibetan people living there celebrate their most important traditional festival: Shaifo festival.
Muya Tibetan people in Mengzhong village have preserved two huge thangkas that are said to be passed down from the Tang Dynasty (AD 618-907). They display the two thangkas during the Shaifo festival as the most sacred event of the year.
About 10 a.m. on this big day, the Muya Tibetan people beat sheepskin drums and blow horns, bringing life and activity to this small village. They go to the family that reserved the thangka and move it out through a door on the roof, which is called a 'heaven door', then carry it to the place where the ceremony will be held.
On their way there, several men carried the thangka and walked with a special gait. Some of those in the parade brought big red roosters, or splashed barley wine to the crowd as their blessing.
Arriving at the ceremonial spot, the two huge thangkas are lined up and surrounded by many Muya Tibetan people who come to pray. After the priest's chanting, people killed the red roosters in front of the thangkas to worship the god and prayed for a good harvest in the new year.