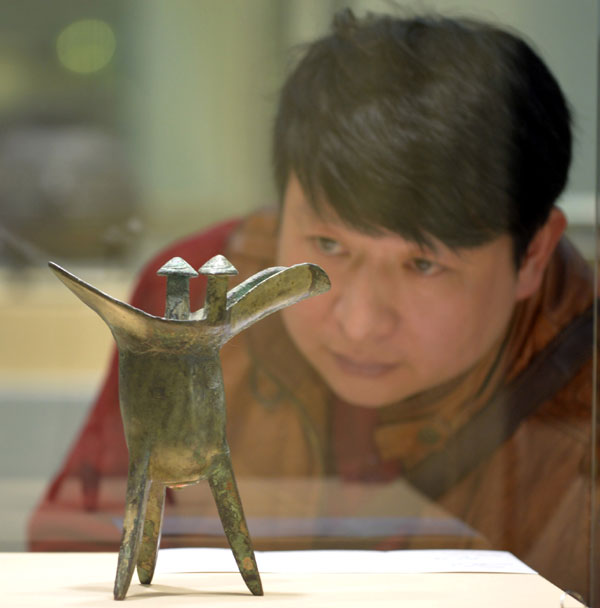 Antique bronzeware sold by the Xiling Yinshe Auction Company in Hangzhou, Zhejiang province. [Photo/China Daily] 
Demand wanes in 2014 despite handful of big-ticket purchases by wealthy collectors
Although deals in the Chinese mainland art market shrank a little in 2014 compared to the previous year, the continuing strong demand for antique paintings and scrolls, along with Chinese collectors' rise on the international stage and diversified auctions, are all sustaining hope in the growth of the art market.
Sales in auction houses in China from January to September totaled 15.3 billion yuan ($2.5 billion), says Ouyang Shuying, deputy secretary-general of the China Association of Auctioneers. With autumn auctions ending, major houses like China Guardian and Poly Auction that represent more than half the art market have seen an average 20 percent drop in sales.
However, experts who attended the recent Chinese Art Market Summit say that China's art market is "never in need of money" but is currently in need of confidence and masterpieces.
White Pagoda Hill, a set of hand scrolls by Emperor Qianlong of the Qing Dynasty (1644-1911), fetched 116 million yuan at a Poly Auction event on Dec 2, setting a record for Chinese paintings and calligraphy.
"It has been really hard for us to persuade collectors to sell this year," says Dong Guoqiang, president of the Beijing Council International Auction Company. "China's art market is still in a transitional year. But we are not short of money. Just look at China's stock market. It (value of transactions) achieved 1.2 trillion yuan in a single day."
Dong says that there are few high-quality artworks to attract good prices-meaning prices of more than 100 million yuan-offered by Chinese collectors in 2014. But that has not prevented them from turning to the international market to invest in Western art.
After Dalian Wanda Group's real estate mogul Wang Jianlin bought Pablo Picasso's Claude et Paloma at Christie's for $28.2 million, movie tycoon Wang Zhongjun purchased Vincent van Gogh's 1890 painting Still Life, Vase with Daisies and Poppies for $61.76 million at a Sotheby's auction in New York in November.
Talking about his expensive purchase, Wang Zhongjun says the price was $10 million lower than what he had expected.
"I loved it at first sight when it was on preview in Hong Kong. I didn't think much before my purchase. I just love it," says Wang.
He already owns paintings by Claude Monet, Paul Cezanne and Pierre-Auguste Renoir.
"I enjoy sitting on a couch with a cigar and looking at these masterpieces hanging on the walls in my house," says Wang, whose collection also includes Chinese paintings and sculptures.
However, some collectors are spending big on domestic art. Liu Yiqian made several big overseas purchases of Chinese antiques.