Buyi people make colorful rice to usher in new year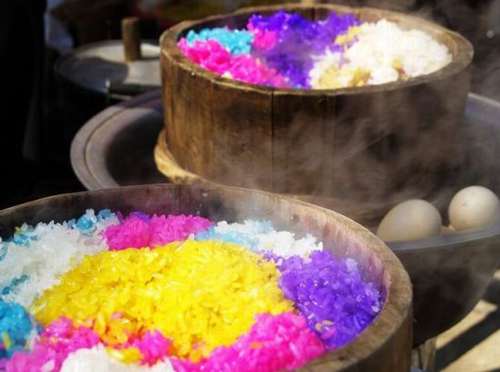 Buyi people make colorful rice to usher in new year [Photo/CNTV]
Holidays in China are often associated with special delicacies. And there is a vast array of traditional new year food. Buyi ethnic group in southwest Guizhou province cooks up colorful to usher in the new year.
Nanlong village sits up in the mountains in the southwest of Guizhou, where the Buyi prepare their traditional five-colored glutinous rice to celebrate the beginning of a new year.
As well as eating it themselves, they offer the rice to ancestors to wish for a peaceful and happy year. The process of making the rice has stayed unaltered throughout the centuries. Five natural plants are collected and boiled, and glutinous rice is soaked in the colored liquid for hours before it is steamed.
The five colors — black, purple, red, yellow and white — symbolize earth, the sun, nature and the sky, and they are a representation of the Buyi people's gratitude to nature and their ancestors. The colored liquids are believed to boost health.
"The five colors here also stand for five basic elements in China's feng shui, which are gold, wood, water, fire and earth, and represent the five major internal organs of a person," villager Song Chunmei said.
"We believe healthiness is when all five organs work well. Here, black nourishes the kidneys, red nourishes the heart, purple for the liver, yellow for the spleen and white for the lungs."
After being steamed for an hour, the rice is infused with the fragrance of the plants. It is then seasoned and mixed with spring onions, pork oil and some fruit powder.
There is an interesting story behind the dish.
"In ancient times, when a young man went off to war, he would worry about leaving his girlfriend at home," Song said.
"So the girlfriend would prepare this five-colored glutinous rice and send it to her man to make him feel at ease. Because the colors represent the five organs, and so it means that the girlfriend has given all of herself to him."
The rice is a favorite of tourists.
Song has made a business out of her homemade delicacy. She gets many orders for vacuum-packed rice.
Five-colored glutinous rice is not the only delicacy of the Buyi people. Glutinous rice cakes are also popular. Mixed with sesame, peanuts and sugar, they loved by both locals and tourists.