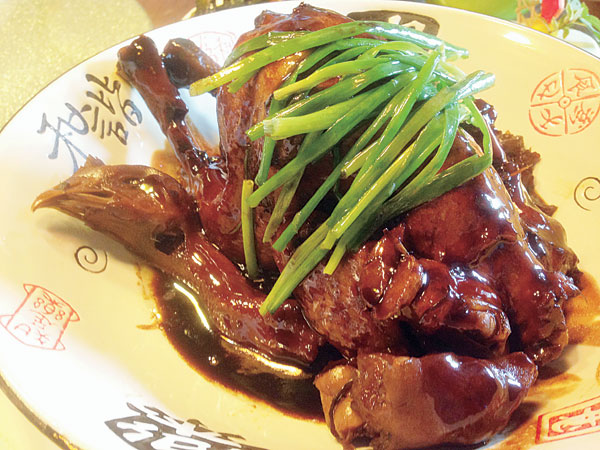 Dongpo-style chicken is a tasty option to the more fatty pork belly. [Photo by Pauline d. loh / shanghai star]
This is the neighborhood where Chinese farmers tended the first paddy fields, and respect for rice is still very much ingrained in local culinary traditions. Pauline D. Loh tastes the down-home flavors of a Suzhou eatery named after the humble rice plant.
On the fringe of the Suzhou Industrial Park, an unremarkable row of shop-houses lines a lazy tree-lined avenue. You can easily drive right past the restaurant if you are not already on a sharp lookout. Three large Chinese characters guard the fa?ade of the restaurant. Shuidao Tian literally translates to "paddy fields" and the little lane that leads to the main door is lined with sweet osmanthus bushes, fragrant with flowers in season.
Inside, rustic marries industrial chic, and we are told that the owners had employed the talents of a designer who had made the Hangzhou restaurant chain Grandma's House famous for its distinctive pastoral look.
Shuidao Tian, too, subscribes to a similar philosophy where food is concerned.
The traditional diet of the rice farmer is brought onto the dining table, with adjustments to please the more demanding palates of gourmets wanting good, honest food.
The Jiangsu regional favorite, braised pork belly, is given a delicious twist that cuts the fat but heightens the flavor. Choice pieces of belly pork are deep-fried to render off the layer of oil under the skin. And then they are tossed with fresh tea leaves, an addition that reduces the oiliness further but also adds a faint fragrance to the dish.
It's a dark dish with little contrast, but the test is in the tasting and it goes very well with a steaming white bowl of freshly harvested new rice.
Speaking of regional favorites, the surprise on our table was a chicken, cooked Dongpo-style, which meant that it was braised with soy sauce and yellow wine, with not a drop of water added. The usual offering is Dongpo-style pork, but Shuidao Tian's chicken was well flavored and very more-ish, in spite of the fact that we already had a substantial meat dish served right before.