World's premium chocolates in one meal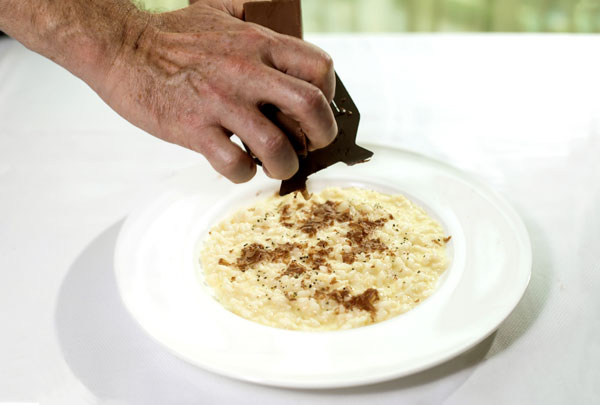 A chef shaves chocolate on top of risotto just before serving during the nine-course chocolate-infused meal at the Ritz-Carlton, Beijing. [Photo provided to chinadaily.com.cn]
Just as caffeine seems to perk people up, chocolate seems to make us feel happy. Whether it is chocolate cake, chocolate bars, hot chocolate or brownies, we crave chocolate. When the world's most premium chocolates are all over a meal, it may take a sweet tooth a world of courage to decline.
International chocolate masters observed that urge. They used the world's best chocolates and got help from professional chefs to create a meal that will be hard for any sophisticated palate to reject.
Diners now can check out the nine-course, chocolate-infused menu created by royal Belgian chocolatier Godiva and chefs at the Ritz-Carlton Beijing at the hotel's Italian restaurant.
Available until Nov16, the meal features an array of premium chocolates from different countries to take guests on a tour of China, the US, Italy, Japan, Africa and Thailand with specially sourced ingredients.
From example, pungent Sichuan pepper (huajiao) is not only used in Godiva chocolate at franchise shops, but also infused in the duck breast on the menu with a chocolate twist.
As calorie-rich as it sounds, the chefs promise diners will still have an appetite to savor more handmade chocolate after the meal.
The nine-courses range from macaroons, oysters, lobster, marinated duck breast, risotto, seafood and barramundi to beef, all infused with chocolate. It looks intimidating at first sight, but not after one finishes the meal.
The chocolate in each dish is subtle, and even subtler is the culinary passion and creativity behind the chefs' minds. Kevin Thomson, the hotel's executive chef, worked out the menu with GODIVA chocolate chefs around the world, and made sure to include their inspiration in one meal.
But then again, how much their effort can be read between the bites depends on how much you are into chocolate.
If you go:
Barolo, The Ritz-Carlton, Beijing
83 A Jianguo Road, Chaoyang District, Beijing 010-5908-8151