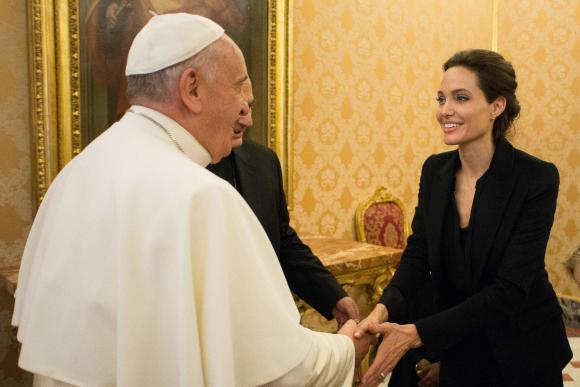 Pope Francis meets Angelina Jolie during a private audience at the Vatican, January 8, 2015. [Photo/Agencies]
Hollywood actress Angelina Jolie met Pope Francis on Thursday after a screening at the Vatican of her film "Unbroken", the Vatican said.
The pope was not present at the screening but Jolie, who is a Goodwill Ambassador for the United Nations High Commissioner for Refugees (UNHCR), and two of her children met him briefly afterwards, a spokesman said. Her husband Brad Pitt was not present.
Jolie, 39, directed the film about American Olympian and World War Two hero Louis Zamperini, whose plane was shot down over the Pacific during World War Two.
It tells the story of his survival in a raft for nearly two months and his later ordeal as an inmate in prisoner of war camps.
Related:
Director Angelina Jolie promotes film 'Unbroken' in Sydney
Angelina Jolie 'open' to pursuing life in politics: Vanity Fair