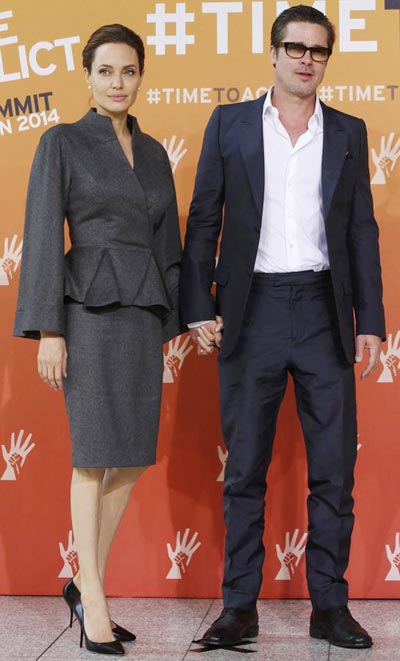 Actress and campaigner Angelina Jolie and Brad Pitt pose as they arrive at a summit to end sexual violence in conflict, at the Excel centre in London June 13, 2014. [Photo/Agencies]
"Brangelina", the American celebrity super couple --
Brad Pitt
 and
Angelina Jolie
, will st
art
their new
movie
called By the Sea on Monday at the Mgarr ix-Xini beach in Gozo, Malta's second largest island.
Construction of the set is already underway, with one structure nearing completion on the beach itself, according to local newspaper.
Local people are reminded that Sunday was the last day for Mgarr ix-Xini beach to open to the public this summer, as the area is being used as a set in the film until Nov 10 this year.
This film was labelled by the government as a "blockbuster" and is expected to pour millions into the Gozitan economy.
According to the Internet Movie Database (IMDB), Jolie is both the director and writer of this film, however the plots are still unknown.
This will be Brangelina's first film together since Mr and Mrs Smith, shot in 2005. Jolie herself told the US entertainment TV show Extra: "It's not a big movie, it's not an action movie. It's the kind of movie we love but aren't often cast in. It's a very experimental, independent-type film where we get to be actors together and be really raw, open - try things."
This is neither the first time Pitt has shot a film in the Maltese archipelago; parts of the 2004 epic film Troy as well as World War Z (2013) were filmed here.