Today's face of Chloe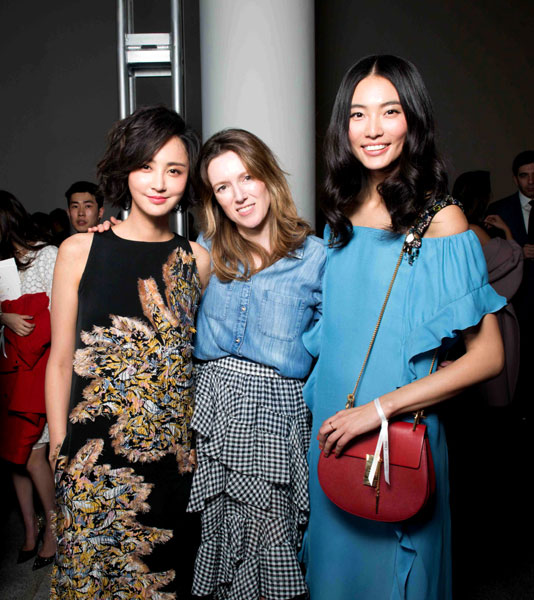 Chloe creative director Clare Waight Keller (center) poses for a photo with Chinese actress Zhang Xinyi (left) and supermodel Chen Bige at the opening of the brand's new store in Beijing. [Photo provided to China Daily]
Clare Waight Keller becomes the first creative director of the venerable French fashion house to visit China, as the label opens a flagship store in Beijing. Chen Jie reports.
A cat has nine lives, and the French fashion house Chloe has even more, having been home to many designers including Karl Lagerfeld and Stella McCartney. But in its 62-year history, current creative director Clare Waight Keller just became the first Chloe designer to visit China.
To celebrate the opening of its flagship store at Beijing's Shin Kong Place, Keller and Chloe CEO Geoffroy de La Bourdonnaye brought a runway show of the 2015 spring/summer collection and the Chinese edition of the company's chronicle book Chloe: Attitudes.
Leading Chinese models Sui Xiaowen, Xi Mengyao, You Tianyi, Chen Bige and others displayed Keller's design for the next season. Popular actresses Gao Yuanyuan, Wang Luodan and Zhang Xinyi also became charming "Chloe girls" watching the show in the front row.
"Sui walked in a Chloe show in Paris but it's the first time we use all Chinese models in a show. It's interesting to see so many Chinese Chloe girls in a night," says Keller.
Together with Yves Saint Laurent and Christian Dior, Chloe is seen as one of the key French fashion brands founded after World War II.
When Gaby Aghion, an Egyptian-born woman arrived in Paris right after the war, French fashion was dominated by the refined femininity of Dior's New Look: wasp waists, full skirts and soft shoulders. But Aghion had a different kind of elegance in mind, one that was no less luxurious but lighter and more free-spirited. She also thought fashion should be more accessible.