Today's face of Chloe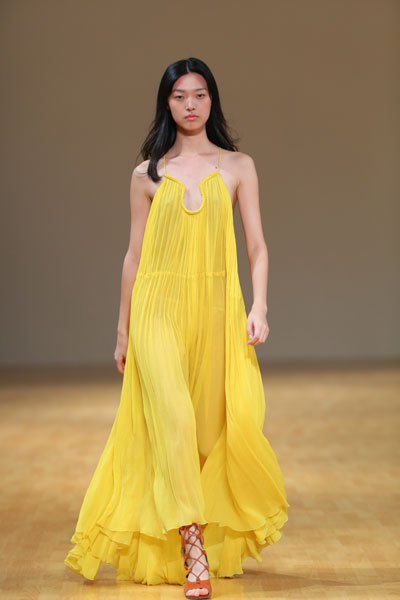 [Photo provided to China Daily]
"This free-spirit style is also what Chinese young women are demanding," De La Bourdonnaye, the label's CEO, says.
"Chloe girls are from Paris but now they are everywhere, including China. In the offices and high-end shopping malls, I see women who are sophisticated, well-educated and demanding style and quality. They don't need big-logo luxury bags but like unique, stylish things to enhance their personality. They all could be Chloe girls."
The CEO says that China is one of the fastest-growing markets, though the biggest markets are still Japan, France and the United States. After opening the Beijing boutique in November, Chloe opened one more store at the Sino-Ocean Taikoo Li Chengdu in December. It's Chloe's 10th store on the mainland.
De La Bourdonnaye notes that, to enhance personal relationships with customers, the Chloe team in China is entirely Chinese. It's not the usual case for a European company, but he thinks it's good for business. The company also has launched a WeChat app to promote the brand among the young generation.
He also admits that because of the government's anti-corruption campaign, the sales of bags declined last year but its ready-to-wear still sells very well.
"Because women choose Chloe for themselves-not as gifts," he says.