Today's face of Chloe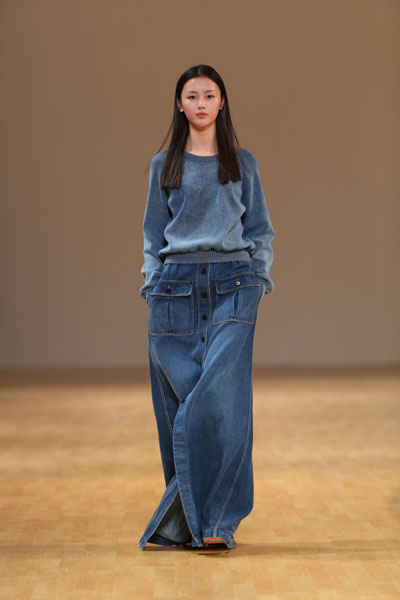 Leading Chinese models display Keller's designs for the next season. [Photos provided to China Daily]
In 1952, Aghion founded Chloe in the name of her good friend Chloe Huymans and invented pret-a-porter (ready-to-wear), a new option for women as they increasingly entered the work force.
Under the insightful Aghion, Chloe became a cradle for many young and talented designers including Carl Lagerfeld, who worked for the house for 25 years beginning in 1964. In recent years, a series of British women held the design reins: Stella McCartney, Phoebe Philo, Hannah MacGibbon and Keller, who joined in June 2011.
All those impressively beautiful moments, talented designers and touching backstage stories are chronicled in the 200-page book Chloe: Attitude, featuring photos, illustrations and newspaper clippings. The English version was released in 2013 to celebrate the 60th anniversary of the house.
"It's a window through which you can see how the brand has developed in the last 60 years," says Keller.
Chloe is famous for chiffon layers, gossamer silk blouses, and long, fluid skirts. Keller understands the core of the house identity, but has her own ideas to contribute something fresh.
"Chloe is all about lightness of touch, gently transmitted sexiness and seemingly effortless ease. I would maintain the tradition, the softness and fluidity, while imposing a sense of modernity. I want to capture that feeling for today-the feminine side with the boyish side," says the 43-year-old designer, who showed up after the Beijing show in a denim shirt.