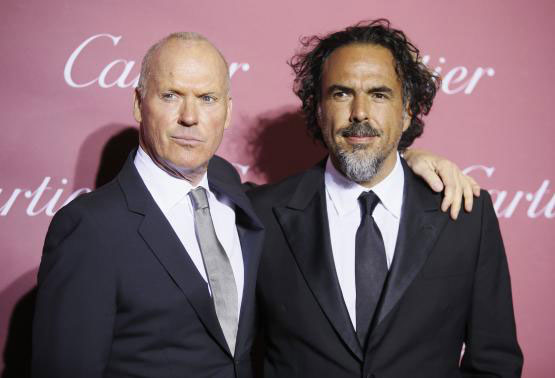 Director Alejandro Gonzalez Inarritu (R), who is receiving the Director of the Year Award, and Michael Keaton, from the film "Birdman," pose at the 26th Annual Palm Springs International Film Festival Awards Gala in Palm Springs, California, January 3, 2015. [Photo/Agencies]
Draped in gowns and decked out in tuxedos, Hollywood's biggest stars turned out on Sunday for the Golden Globes, the show that kicks off the film industry's awards season.
On the red carpet under cloudy skies, nominees like Emily Blunt and Rosamund Pike, both up for best actress awards, braved a winter chill in white dresses.
Actors Kathy Bates, Joshua Jackson and Diane Kruger held up signs and smartphones with "Je Suis Charlie" to show support for victims of the deadly attack on a satirical newspaper in Paris last week. George Clooney, who will receive a lifetime achievement award, wore a lapel pin with the same phrase.
While a Golden Globe lacks the prestige of an Academy Award - the industry's highest honor - the party put on by the Hollywood Foreign Press Association (HFPA) can be a rowdy affair, especially in the hands of third-time hosts Amy Poehler and Tina Fey.
Hanging over the room will be the hacking at Sony Pictures, which had the town atwitter after leaked emails revealed embarrassing tidbits about some of Hollywood's biggest names - likely fodder for the comedic pair.
"When an entertainment story becomes a national and an international news story, you can't ignore it and they won't," said Dave Karger, chief correspondent and awards expert at Fandango.
Sony Pictures Chief Executive Officer Michael Lynton, who will be absent, said in an interview that he is a "a bit of a homebody and my sticking my head above the parapet is not normal for me."