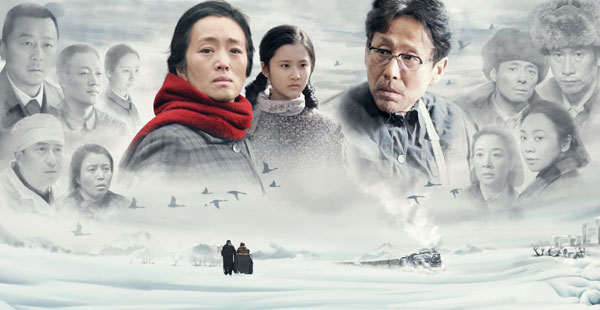 The poster for Zhang Yimou's film Coming Home, one of three Chinese films nominated for best foreign language film at the upcoming Golden Globes.[Photo provided to China Daily]
Three Chinese films have been nominated for best foreign language film, but it seems unlikely that will translate into triumph at the Oscars. Xu Fan reports.
China has staged a strong showing in best foreign language film nominations at the Golden Globes - which are widely considered a vetting for the Oscars - but insiders say it's unlikely any Chinese films will take this year's Academy Awards.
The Golden Globes' organizer, the Hollywood Foreign Press Association, announced three Chinese films are among 53 nominees for the genre.
Candidates include Zhang Yimou's Coming Home, two-time Hong Kong Film Awards winner Peter Chan's Dearest and best-selling novelist Han Han's directorial debut, The Continent.
About 90 international journalists who are association members will vote for the winners of 24 categories, ranging from best film to screenplay.
The Golden Globes are staged in Beverly Hills a month before the Academy Awards and are consequently considered a litmus test for Oscar success.
While Coming Home, Dearest and The Continent average nearly 8 out of 10 points on China's top movie-review websites, critics tell China Daily they aren't optimistic about the results that will be revealed on Thursday Beijing time.