Diesel-powered babies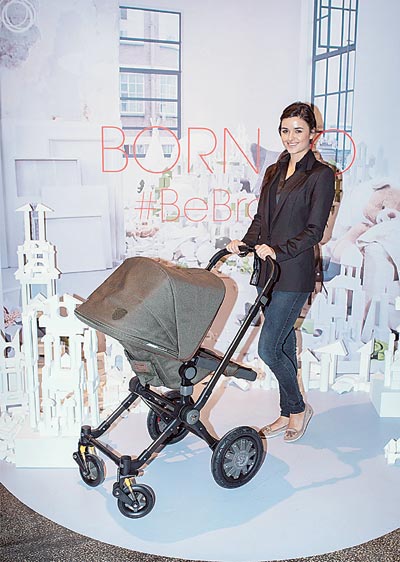 A model demonstrates how to use the green canvas Cameleon 3 stroller, part of the new Bugaboo by Diesel collection. Photo provided to Shanghai Star
As foreign baby strollers cram the market, one brand offers a perfect marriage of trendiness and practicality to win over young urban couples.
Dutch mobility company Bugaboo has forged creative partnerships with Andy Warhol, Marc Jacobs and Diesel to create limited-edition strollers that achieve the impossible: They make pushing a screaming toddler around town look cool.
Cool enough that Kate Middleton and Posh and Becks have bought one, anyway.
Ever since cofounder Max Barenbrug and his brother-in-law found a manufacturer in Taiwan and launched their first stroller on the international market in 1999, the company has branded itself as being stylish, intuitive and performance-driven.
It now has a factory on the mainland for better quality control, which Barenbrug, who steered the company back to global revenues of US$117 million in 2012, calls "the key to our success".
"We are very proud of our intuitive design. I can show you how to rearrange the stroller in a few seconds and you can do it," says Robbert Cohen de Lara, Bugaboo's Managing Director Asia, adding that revenue has been doubling in China on an annual basis.
Bugaboo launched in China three years ago and now has four models on the market. Each bears an animal nickname, from the iconic stroller (bugaboo cameleon) and top-selling urban (bee3) to the convertible (donkey) and all-terrain (buffalo) strollers.
"Chinese are more familiar with the compact-lightweight bugaboo bee, but they're starting to appreciate the multi-functionality of the cameleon," says Cohen de Lara.
"The reason Bugaboo got so huge in the Netherlands is because you get a big return on your investment," he adds. "Dutch people are typically very frugal."