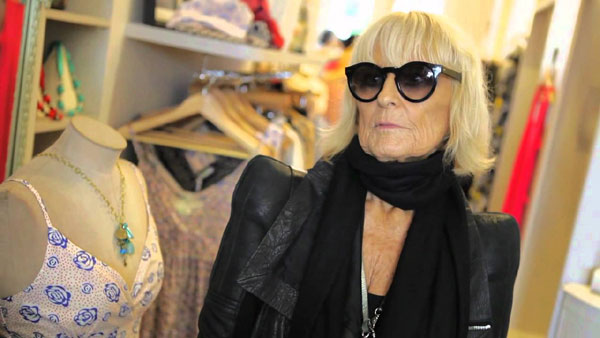 Fashion designer Barbara Hulanicki is back to Biba, a fashion label she started five decades ago.[Photo provided to China Daily]
Fashion designer Barbara Hulanicki is set to be reunited with Biba, the iconic fashion label she founded 50 years ago and which became a destination for young Londoners in the Sixties and Seventies
The 78-year-old has signed a consultancy deal with House of Fraser, the department store which owns the rights to the label, reports the Sunday Times.
Polish-born Hulanicki said: "I've got Biba flowing through my veins" following an announcement that she will be designing a capsule collection some 39 years after parting ways with the brand, which will hit stores next autumn.
The Biba label has been revived several times since its demise in 1975, but Hulanicki claims to have never been approached to sit at the helm. Designer Bella Freud had a short-lived stint as creative director when the brand took to London Fashion Week in 2006, and when House of Fraser took control of the name in 2009 Hulanicki blasted the line for being too expensive.
"I always find everyone who buys it thinks of it as couture, but I think it is more like Woolworths-which is what it was always meant to be," she said in 2010. She has spent the past four decades working as an interior designer in Miami but recently revived her fashion background for a sell-out collaboration with Topshop in 2009 and has been consulting on supermarket Asda's George clothing collection.
"It's the first time somebody has asked me to be involved in Biba again," commented Hulanicki, whose capsule collection will be signposted to differentiate from the Biba main line carried by House of Fraser.
A House of Fraser spokesperson said: "We're absolutely delighted to be working with Barbara in a creative capacity. Her wealth of experience, passion for retailing and her exceptional creative talent will add significantly to the exciting development of our business as we seek to build upon our current success."
Hulanicki and her late husband, Stephen Fitz-Simon, started Biba from humble beginnings with a postal-order service in 1964, quickly graduating to a small store in London's Chelsea which at first sold just one dress style in one size.
Affordability and celebrity support made it a must-have for teenagers, who snapped up Biba's designs in the thousands. Larger boutiques subsequently opened around Kensington until "Big Biba", a seven-storey giant on the High Street bought from department store Derry & Toms was acquired by Hulanicki and Fitz-Simon in 1974.
But despite its popularity and huge sales-some handled by sales assistant Anna Wintour, now the editorin-chief of US Vogue-the company ran into financial difficulty and was part-bought by Dorothy Perkins. Hulanicki left the business in 1975 and the store closed shortly after.