The good oil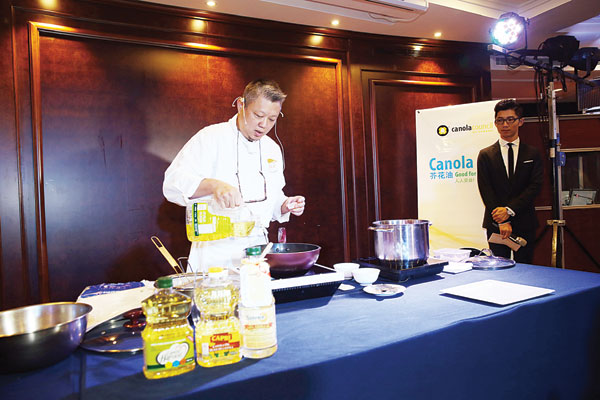 COOKING: Chef Ren Quanwei demonstrates how to cook with canola oil. [Photo provided to Shanghai Star]
Cooking oil is something you use almost every time you use the kitchen, but which one is healthiest? Wu Ni takes a look.
It is hard to get very far in the kitchen without cooking oil. These liquid fats derived from plants are used to sauté, fry, bake and marinate. However, one may feel confused by the dazzling array of cooking oil on supermarket shelves: canola oil, olive oil, sunflower oil, corn oil, peanut oil and so many others, all claiming to be the best.
All oil contains fat. Some fat is healthy while others are not. Since oil is consumed daily, choosing the right oil can effectively lower the risk of heart diseases and diabetes, says Liu Na, a nutritionist and health consultant at the International Medical Center of Chinese PLA General Hospital in Beijing.
The fat in oil can be divided into three categories from best to worst: unsaturated fat, saturated fat and trans fat. According to the Harvard School of Public Health, people should "choose healthy fats, limit saturated fat and avoid trans fats." While saturated fats and trans fats can increase risk of disease, unsaturated fats such as polyunsaturated or monounsaturated can help lower this risk.
In China, about 20 percent of adults suffer from cardiovascular diseases and 12 percent of adults suffer diabetes. "Since heart disease and diabetes are leading causes of death in China, it's critical to lower intake of saturated fat and to consume a moderate amount of healthy fats instead," she says.
Based on their health benefits, Liu divides common cooking oil into three types.
"Green light" oil, including canola oil, olive oil and camellia oil, is rich in unsaturated fat and the most highly recommended. Flaxseed oil is also healthy when it is cooked over low temperatures.