Secret's out with a splash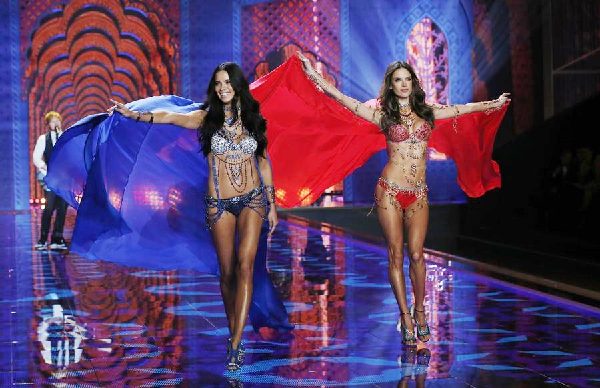 Models Adriana Lima (L) and Alessandra Ambrosio present creations at the 2014 Victoria's Secret Fashion Show in London December 2, 2014. [Photo/Agencies]
Top models wearing gold wings and diamond-encrusted bras strutted the London catwalk on Tuesday in the first Victoria's Secret annual lingerie show to be held in the British capital.
The event was billed as the US company's most expensive ever with a price tag of $20 million, and featured some of the world's best-paid models, including Brazil's Adriana Lima.
Only the second time the show has been held outside the United States since 1995, the event began on a glamorous note with the Victoria's Secret "angels" dressed in white and sporting gold wings.
British singer-songwriter Ed Sheeran took to the stage to perform his hit Thinking Out Loud as models walked the runway in colorful outfits inspired by exotic destinations.
US superstars Taylor Swift and Ariana Grande also performed at the show in London-a city chosen over Paris because of its "convergence" between fashion and music, according to marketing director Ed Razek.
"The show is seen in 192 countries, the show is seen by 500 million people. That is completely unique in the industry. No one does what we do," Razek says.
Wearing long dark tresses and capes, Lima and fellow Brazilian Alessandra Ambrosio exhibited "Fantasy Bras" created by jeweler Mouawad, each studded with 16,000 precious stones including diamonds, rubies and sapphires valued at $2 million.