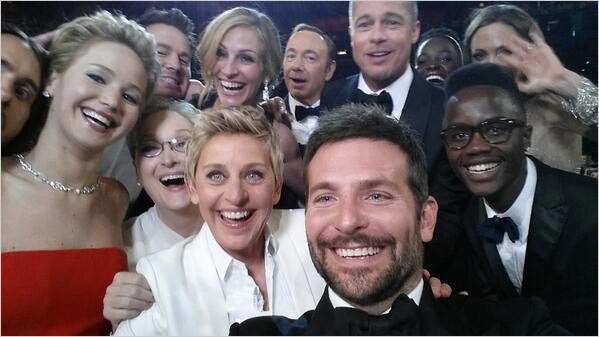 The 2014 Academy Award host Ellen DeGeneres's Oscar-night group selfie comes in at NO. 1 of the top-10 selfies of this year picked by the TIME Magazine. [Photo/Chinanews.com]
TIME Magazine has picked the top-10 selfies of this year.
And the award for most retweeted tweet in history (so far) goe to…the selfie Ellen DeGeneres orchestrated at the 2014 Academy Awards, starring Jennifer Lawrence, Channing Tatum, Julia Roberts, Kevin Spacey, Brad Pitt, Lupita Nyong'o, Angelina Jolie, Bradley Cooper, Meryl Streep and Jared Leto. It may have been sponsored by Samsung, but that didn't stop us from retweeting, memeing and talking about it for weeks.
Selfies from American President Barack Obama and British Queen Elizabeth II rank two and three, respectively.