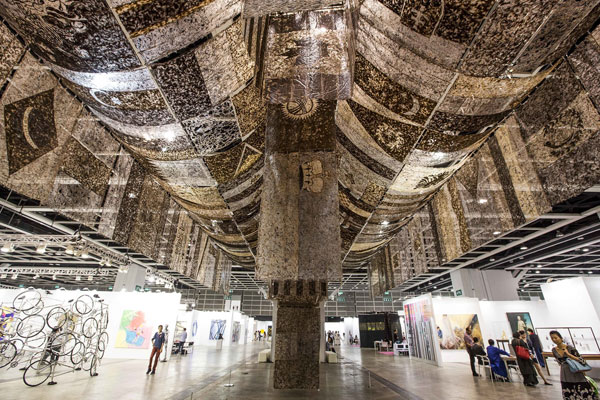 Last year's Art Basel Hong Kong attracted more than 65,000 visitors from different parts of the world. Organizers expect this year's number to grow. [Photo provided to China Daily]
This year's Art Basel Hong Kong will embrace new galleries in the region and art collectors with its newly appointed director for Asia, Adeline Ooi, leading 231 galleries across the globe.
Thirty-three of the galleries are from China, and some are from second-tier cities taking part in an international art fair for the first time, according to Marc Spiegler, Art Basel's global director.
Art Basel Hong Kong will be held in March.
"When we talked about Chinese galleries and collectors in 2011, the first time we brought our fair to Hong Kong, we only talked about Beijing and Shanghai. But now we are talking about Chengdu, Guangzhou, Nanjing and even Hangzhou because of the growing economy there," says Spiegler, who visited Beijing on Friday.
A gallery from Chengdu in Southwest China's Sichuan province will be one of the newcomers. "Not only are Chinese galleries and collectors very young and new, but so are those from Southeast Asia," says Ooi, who was appointed Asia director on Dec 30.
Ooi, 38, says young people from Southeast Asia, usually in their 20s, come to Hong Kong because they are interested in art. Some should be labeled art lovers instead of collectors.
Art Basel Hong Kong is different from shows in Switzerland and Miami in that it focuses on Asian art, says Spiegler.
A total of 29 well-known Western galleries will participate in the Hong Kong art fair this year for the first time, presenting works from the modern period of the early 20th century to contemporary pieces. Their interest in the art fair is driven by Asia's strong economy and vibrant art scene.
About 50 percent of the galleries featured at the Hong Kong art fair will be coming from Asia.
"Art Basel Hong Kong must have 50 percent of galleries from the region. We don't want to simply copy and paste Art Basel in Switzerland," adds Spiegler, explaining that he incorporates the DNA of the Art Basel brand but localizes it into the region.
Art Basel was brought to Hong Kong in 2011 under the brand of Art Hong Kong. In 2013, the name was changed to Art Basel Hong Kong, and this year's show will be the third edition.
The fair has attracted an increasing number of visitors. Last year, around 65,000 people visited the show over a three-day period. This year, the organizers are confident that the number will grow.
The influential fair will be open to the public in Hong Kong from March 15 to 17. It will be composed of six sectors:
Galleries. More than 170 of the world's modern and contemporary art galleries will be featured.
Insights. This section will feature projects developed specifically for the Hong Kong show.
Discoveries. This section gives a global platform to emerging contemporary artists from around the globe.
Encounters. This part is dedicated to presenting large-scale artworks.
Film. This section focuses on new media and video.
Conversations. This part encourages communication between artists and the public.