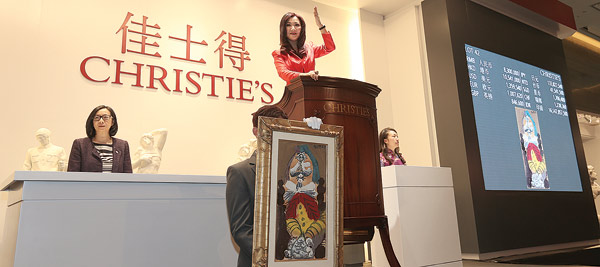 A Picasso painting under the hammer during the 2013 auction at Christie's in Shanghai. The city, with one of Christie's International Plc's 12 auction centers, recorded 32 percent growth in new clients last year. Provided To China Daily
Art collectors in China helped drive the growth of leading global auction houses last year through an active presence at domestic and foreign auctions and via online sales.
Cai Jinqing, president of Christie's China, said that spending by clients from China increased 22 percent last year and sales on the Chinese mainland itself rose 48 percent to the equivalent of 24.5 million pounds ($37.7 million). Cai did not provide a figure for Chinese clients' spending.
Last year, the auction house's global sales to Asian clients expanded 18 percent, with growing activity in many categories, she said. Asian clients accounted for 27 percent of all sales globally.
Shanghai, as one of Christie's International Plc's 12 auction centers, recorded 32 percent growth in new clients last year.
Chinese buyers have become more international, diversified and sophisticated in tandem with their rising global activity, said Cai.
Christie's 2015 Shanghai Spring Auction will be held on April 25 with two sales. Cai said that private buyers have become an important group, and that trend has encouraged interaction and communications among industry insiders on the Chinese mainland.
Another world leader in auctions, Sotheby's, said last month that sales last year rose 18 percent to a record $6 billion, with more than $1 billion coming from buyers on the mainland and in Hong Kong, Macao and Taiwan.
Dalian Wanda Group Co Ltd, a real estate and entertainment conglomerate, bought a Picasso painting for $28.16 million, more than double its estimated price, at a Christie's auction in New York City last November.
Online auctions are also widening Chinese collectors' world. A major boost to Christie's global business last year was online sales, which rose 54 percent to 21.4 million pounds, driven by 78 online sales across 21 categories.
Christie's buyers on the online platform came from 69 countries, with 32 percent new to the firm. Among the new buyers, 42 percent were under the age of 45, said Cai.
Christie's began its digital innovation in spring 2014 by launching an interactive mobile microsite for the Shanghai Fall Sales, which featured the complete auction program and sale catalogs in Chinese. It had almost 55,000 page views and 5,400 visitors over 20 days, exceeding the total catalog print run, said Cai.
Deals on the Chinese mainland contracted for much of last year. Major houses such as China Guardian Auctions Co Ltd and Beijing Poly International Auction Co Ltd, which represent more than half the art market, recorded an average 20 percent drop in sales after the autumn auctions.
Ji Tao, a researcher at the Auction Research Institute of the Central University of Finance and Economy in Beijing, said many medium-sized and large auction houses' revenue fell last year.
Ji said that trend reflected a decline in the availability of top art pieces and the impact of the soaring stock market.
wangzhuoqiong@chinadaily.com.cn