Sichuan cuisine gains worldwide appeal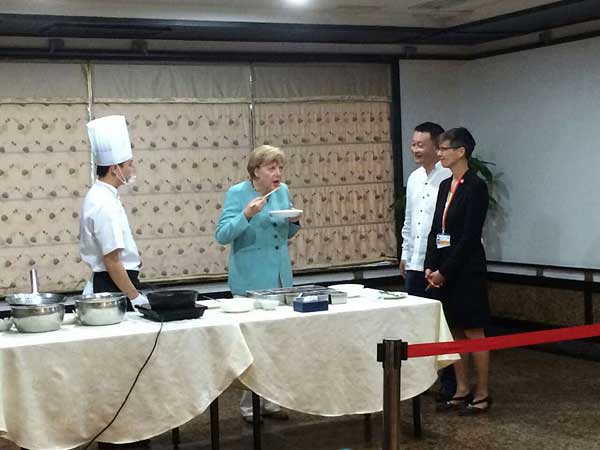 German Chancellor Angela Merkel eats kung pao chicken, a spicy Sichuan dish made with chicken, peanuts, vegetables, and chili peppers, at a Sichuan restaurant during her visit to Chengdu, the capital of Southwest China's Sichuan province, July 6, 2014. Merkel kicked off her 7th China trip Sunday in the Southwestern city, a place that German companies regard as a springboard to the relatively underdeveloped western parts of China. [Photo provided to China Daily]
"I wish time to pass slowly so that I can enjoy more of the food and culture here in Chengdu," said Raymond Greene, the new US consul general in Chengdu, capital of Sichuan province.
Greene said he fell in love with the spicy Sichuan food as soon as he took office in Chengdu in September.
"One of the greatest pleasures of living in Chengdu is the cuisine. In my opinion, it is the best in China. When I'm away from Sichuan, within a day or two, I start getting pangs for mala," he said. Mala is Chinese for "spicy".
Sichuan cuisine is gaining popularity among Westerners.
In July, during her state visit to China, German Chancellor Angela Merkel visited a Sichuan restaurant and learned how to cook Kung Pao Chicken, a famous Sichuan dish made with chicken, peanuts, vegetables, and chili peppers. She also bought some seasonings for Sichuan cuisine at a local market.
British actress Bonnie Wright, who played Ginny Weasley in the Harry Potter films, tried hot pot and learned to cook Mapo Tofu during her visit to Chengdu last September.
"The first impression of Sichuan cuisine to many people is spicy, while in fact, 70 percent of dishes are not," said Peng Ziyu, a 70-year-old cooking master, who served Sichuan dishes to former French president Jacques Chirac during his visits to China.
Peng said Sichuan cuisine has a variety of flavors, including sweet, sour, spicy, bitter and salty, which could satisfy different tastes from all over the world. "People may not like every single dish of Sichuan cuisine, but they are sure to find some they will enjoy."