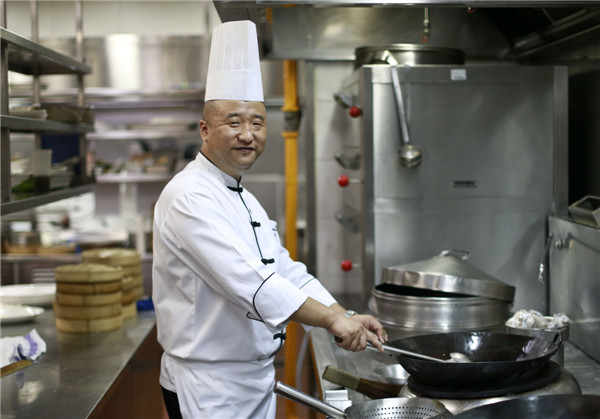 Chef Jacky Fan. [Photo by Feng Yongbin/China Daily]
Food is a driving force behind Chinese New Year celebrations. Dong Fangyu explores how to eat your way through the holidays.
Americans have their Super Bowl, the annual football feast that keeps a nation transfixed, and Chinese have their eight great bowls, a meal tradition that used to hold national sway, but which has become less and less common.
Just as the American game has gained wings - more than 100 million people are said to have watched the latest event on Feb 1 - some chefs in China are now looking to breathe new life into the revered eight great bowls. As Spring Festival is just around the corner, high-end hotels in Beijing are coming up with novel ideas for resurrecting traditional Chinese food culture to attract customers.
Jewel Chinese restaurant at Westin Beijing Financial Street presents the eight-bowl dishes for its Year of the Sheep dinner.
This is the perfect time of year to do it, given that eight bowls used to be traditional fare for families on important occasions since Qing dynasty (1644-1911). Though the food tradition is less common in urban families, the folk practice is still embraced in some rural parts of China.
Chef Jacky Fan, 41, executive chef of Jewel Chinese restaurant, says that within the modern art of Chinese cooking, old Chinese traditions are making a comeback. "Spring Festival banquets at hotels tend to go more culture-oriented, and family-style, instead of focusing on the expensive and exotic ingredients," he says.
The eight-bowl banquet has many variations. There is no set rule for what should be included in the eight bowls. But eight cold dishes and eight warm ones, involving the various Chinese cooking techniques, are usually prepared, says Fan. After all, the concept of having eight bowls stands for a lucky number and a happy reunion.
One of the eight-bowl dishes that will be on Jewel's menu is Four-Joy Meatballs, which are minced pork balls, each with a whole egg wrapped inside. The "Four-Joy" has many interpretations. Some believe it means having good fortune, prosperity, longevity and happiness.
Nian gao, the Chinese New Year cake made from glutinous rice, once didn't appeal to refined diners at luxurious hotels, but it's a hot ticket now. Eating nian gao (literally translated as "year higher" in Chinese), has been a tradition among Chinese families - the practice is believed to improve your luck in the forthcoming year.