Eat your heart out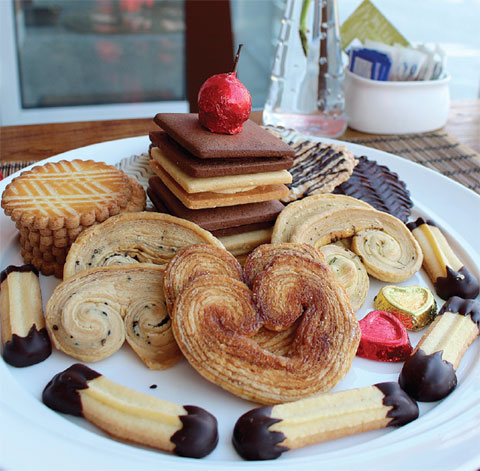 Top and below: Japanese chocolatemaster Sugita Tsyguo's handmade artisan chocolates and cakes. [Photo provided to China Daily]
For a Japanese chocolate-maker, Valentine's Day may be the most wonderful time of the year. Sugita Tsyguo tells Liu Zhihua about making life sweet in China's capital.
The small cubes of ganache are black and rich, and melt with the sweetness of Belgian dark chocolate, German cream and rum. A light dusting of cocoa powder adds an echo of bitterness.
"It's a perfect Valentine - bittersweet, maybe like love itself," says Sugita Tsyguo, a Japanese chocolate master who has settled in a Beijing suburb to bring his culinary arts to the capital.
No one in China is more prepared than Sugita for Feb 14, when lovers who seek sweet somethings for their enamorata come looking for the perfect taste of love: chocolate.
His handmade candies gleam in the chilled glass cases of Aux Delices, enticing locals from the nearby expat community of Shunyi.
But the business doesn't depend on appreciation by foreigners. A growing number of Chinese have become fans since the 70-year-old chef teamed up with Beijing interior designer Lillian Tian to found the chocolate and cake shop. Aux Delices also caters events for companies downtown.
Sugita always uses imported materials to craft his handmade artisan chocolates and cakes, including South Korean granulated sugar, Belgian chocolate cocoa beans, French cream and Japanese wheat powder.