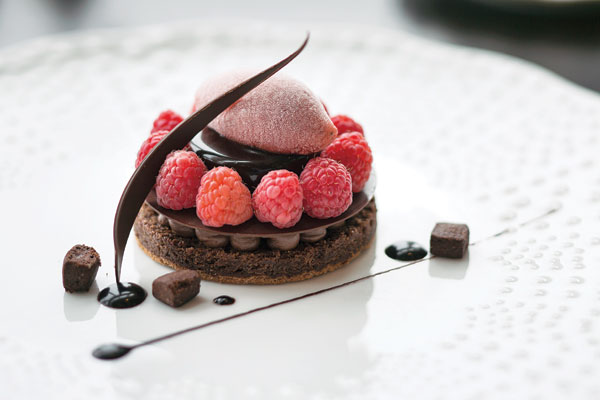 Delicious: An ice cream chocolate cake with raspberries is one of the specialties from Ye Wei at the Park Hyatt Shanghai. [Photo provided to Shanghai Star]
A good pastry chef does everything with a mathematical precision, Xu Junqian meets a master of the trade.
As he juggles flasks and calculates numbers down to the last decimal point, Ye Wei, donning a spotless white coat, looks more like a chemist than a pastry chef.
He is in fact, a culinary guru and one of the city's most-recognized and most-dangerous men, who by rights, should held responsible for a substantial amount of the calories Shanghai residents consume, powerless to resist.
And among Ye's arsenal of sweets, chocolate is his weapon of choice. "It's (chocolate) the most diversified (confectionary). Ninety percent (of cocoa) provides a sheer bitterness; 50 percent hits Shanghai's favorite balance of sweet and bitter. Every one percent change provides a different experience on the palate," says the Shanghai chocolatier.
In his kitchen, better described as a laboratory, atop what is currently Shanghai's tallest skyscraper, the executive pastry chef of Park Hyatt Hotel shows off one of his little "scientific breakthroughs": He is able to get a drop of melted chocolate, or any other thickened liquid, to stand up on a plate.
The trick is to spray a light layer of chocolate or flour powder on the plate first, so that the molecule can stick to it and retain the liquid, which can be used as ink for painting and writing. "You just never get bored with them, even the most basic combination of flour, milk, sugar and butter," says Ye, who started his kitchen life at the age of 18, in the 1990s, when an oven was rare in many households, if not the whole of Shanghai.
Ye recalls cooking his first culinary school assignment, a sponge cake, in a Chinese traditional soup pot, called a shaguo. He described the cake as "discouraging a second bite".