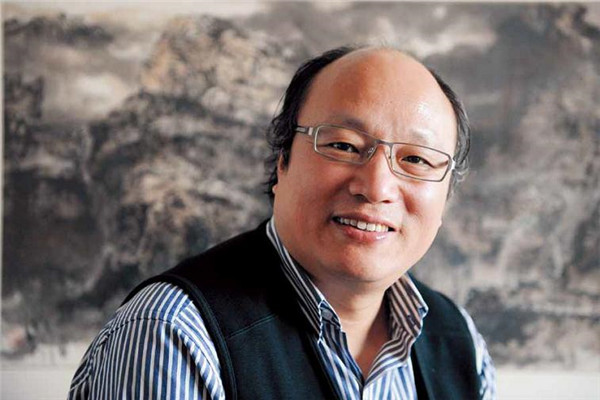 Painter Jack Ma [Photo provided to Chinaculture.org]
A collection of Jack Ma's ink and wash masterpieces was published in January 2015.
Unlike his namesake, the Alibaba Group CEO, this Jack Ma is a journalist and an artist.
Ma is a member of the China Artists' Association, the most elite circle of artists in China, and a senior reporter at Xinhua News Agency, one of the country's most influential media institutions.
The freehand paintings, mostly depicting the Taihang Mountains, express his love for the landscape of the mountainous region near his hometown of Handan, an ancient city where China's first emperor, Qin Shihuang, was born over 2,000 years ago.
Ma was born into an artist's family in Hebei province, at the foot of the Taihang Mountains. His exposure to painting at an early age sowed the seeds of his love for art. Two years at China Daily as an editor from 1990 to 1992, when he was in charge of the weekly Art and Exhibition page for the then only English-language newspaper in China, allowed him access to the art circles of Beijing, where he visited galleries and museums to cover art events and was motivated to learn Chinese painting.
Ma's paintings reveal a world full of life and vigor. They belong to the wenrenhua, or literarti school of Chinese painting.
The biggest difference between traditional Chinese painting and that of other cultures is that Chinese painting seems to have been taken as a channel of self-expression rather than a realistic depiction of nature. Wenrenhua, which has dominated Chinese painting for centuries and is still influential, are the best examples of such paintings.
Wenrenhua painters, often frustrated for not being promoted to officialdom by the royal government, would turn to poetry, calligraphy or painting for consolation.