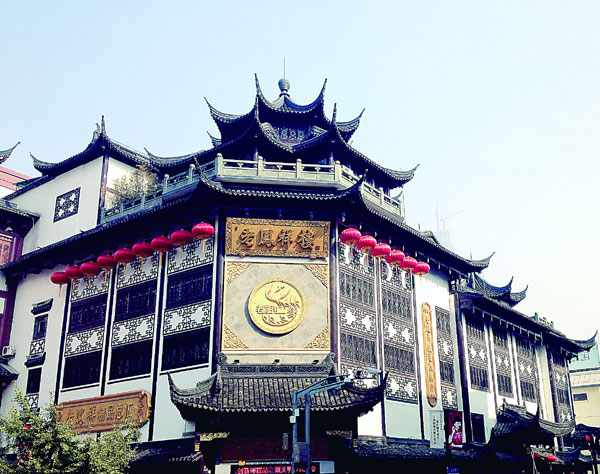 Time-honored brand: The Lao Feng Xiang storefront today (main).[Photo provided to Shanghai]
With more than 100 years of history, Lao Feng Xiang continues to soar to new heights with its rapid global expansion. Wang Ying reports.
In Chinese culture, feng, or phoenix, is the king of all birds and is considered very auspicious. Jewelry maker and retailer Lao Feng Xiang, a name that loosely translates to "old auspicious phoenix", is a leader in the Chinese jewelry market, and hopes to bring auspicious fortune to it's customers.
Lao Feng Xiang was founded in 1848 and had a logo depicting a flying phoenix. It was originally named Feng Xiang Yinlou (silverware shop) and was located in the former Nanshi district.
It was founded by Zheng Xi, who was from a wealthy family. The shop specialized in purchasing used gold and silver ware, melting them down into accessories and selling them. Within a couple of years of operation, it had developed into a local silverware giant.
Born and raised in a wealthy family, Zheng was said to be quite familiar with the phoenix image as it was found everywhere in his home, from the eaves to the walls. That was why Zheng decided to make the phoenix the trademark of his shop. The store was moved to Pingwang Street and changed name into Yi Ji in 1886, and since then the store relocated and changed its name a number of times, including Zhiji, Qingji, Yuji and more, but none of the new names could compare with its original moniker.
In January 1985, Lao Feng Xiang reverted back its original name, and was restructured into Shanghai Lao Feng Xiang Co Ltd in December 1996. China First Pencil Co Ltd became the controlling shareholder of Shanghai Lao Feng Xiang Co Ltd in 1998. After the restructuring and rebranding, the 167-year-old brand became one of the most successful time-honored brands in China.