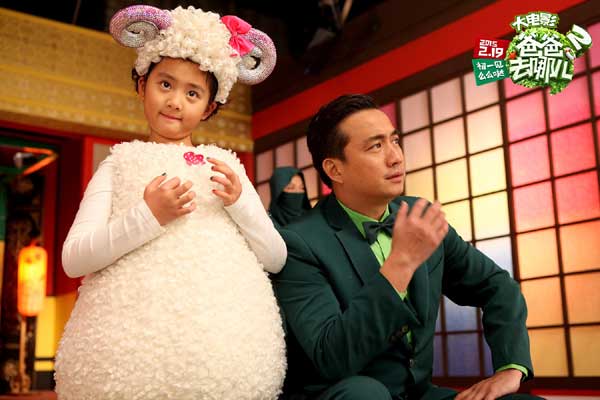 Poster for popular reality TV shows adapted into movies, Where are We Going, Dad? 2. Photo provided to China Daily
This year's lunar New Year holiday season is likely to witness fierce competition at the country's box office among three movies that have been adapted from reality TV programs.
The Chinese movies Running Man, Where are We Going, Dad? 2 and Emperor's Holidays are all based on South Korean TV shows.
The feature film adapted from the popular TV show, Where are We Going, Dad?, hit an amazing box-office run of 700 million yuan ($112 million) in 2014, and it was the eighth most profitable Chinese-language movie last year. The low-budget movie took just five days to shoot.
So some critics called it "an extended version of the TV show".
Featuring celebrities who risk an adventurous journey to win a race, the 80 million yuan TV show, Running Man, has earned a record rating at 4.2 percent in 35 major cities, topping the audiences list with its 13 episodes from last October to the middle of January.
Starring rising Chinese movie star Chen He and South Korean A-list actor Kim Jong-kook, the comedy film adapted from the TV show premiered on Jan 30 and grossed 227 million yuan at the box office in the first three days.
On average, audiences laughed 86 times while watching the 88-minute movie, and about 590 million posts on Chinese micro-blogging platform Sina Weibo mentioned the movie as of Monday, according to data from Wanda Group, the film's distributor.