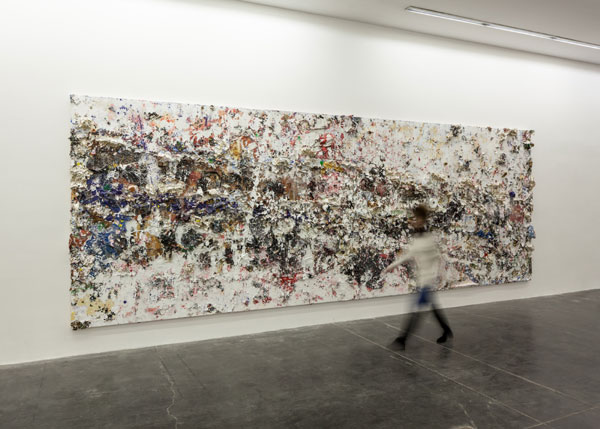 Michael Chow dabbed oil pigments and cracked eggs on his works, to capture his visions of pollution, wars and bomb explosions, among other problems of human society.[Photo provided to China Daily]
Collage artist takes his work to a big scale in his 70s as he looks back on what he learned from his father, Lin Qi reports.
When Michael Chow appeared at a public talk in Beijing on Jan 22, the owner of the Mr Chow restaurant chain didn't say a word about his catering empire. Rather, he spoke about his paintings and the enlightenment he has gotten from his father, Zhou Xinfang (1895-1975), the Peking Opera legend.
Chow, who looked much younger than his 76 years, wore his trademark round glasses with bold, black frames. He left his favorite custom Hermes suit in the hotel, arriving instead in a T-shirt and jeans dotted with paint splotches.
Two-and-a-half years ago, Chow decided to end a 50-year-long "radical sabbatical" from his own painting, and started to execute large-scale works. He is displaying 12 of these abstract paintings at a solo exhibition at the Ullens Center for Contemporary Art - juxtaposed with 11 portraits of himself created as gifts by those art figures frequenting Mr Chow, such as Peter Blake, Keith Haring and Jean-Michel Basquiat.
Chow dubs his paintings as collages. He dabbed oil pigments, cracked eggs on them, and attached gold leaves. He stapled household trash and plastic bags containing banknotes, tubes and all kinds of stuff.
These "half-sculpture, half-painting" works capture his visions of pollution, wars and bomb explosions, among other problems in society. He created seemingly disorder and chaos on the canvas, which however present a balanced visual effect at a distance.
Chow's approaches demonstrate the influences of surrealism, post-war European art and American abstract expressionism. The conflicts among different materials being put together imply his dramatic life journey from China to Britain, then to the United States.