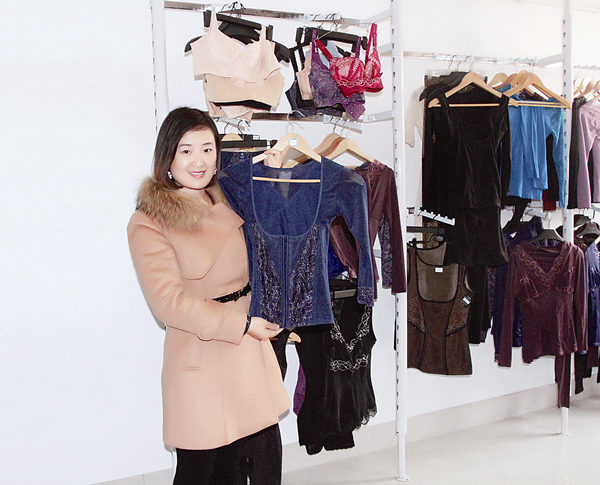 Dong Chunling sees a gap in the market for high-quality shapewear. Photo provided to Shanghai Star
Seeing a market demand for quality shapewear, Dong Chunling decided to take a chance and pursue her dream to become part of the rag trade. Yu Ran reports.
It took seven years for Dong Chunling to go from a small online trader to an entrepreneur with a company that designs and manufactures high-quality women's shapewear in Changzhou, Jiangsu province.
Dong has always loved making clothes. When she was a child she used to play with a needle and thread while visiting her grandfather, a tailor.
"I grew up making handicrafts and clothes for my dolls and now I finally have the chance to follow my childhood dream to design clothes and create my own brand," says Dong, 37, who was an accountant before quitting to have a baby in 2006.
In fact, she started her business with a simple aim - to have flexible working hours after her maternity leave by selling baby products on taobao.com.
She soon noticed the booming shapewear market as more young mothers like her were keen to retain their slim bodies and wear beautiful clothes.
As a patient and determined entrepreneur, she developed her company at a slow and steady pace.
In the beginning, she worked with suppliers directly to sell shapewear, as a low-risk way to get into the market.
She was very cautious not to open the door to the market too wide, so most of her products were only 50 to 60 yuan ($8 to 9) per piece.
The low prices didn't bring her much profit, but helped her gain a reputation in the industry. It also made her realize that competing with low-price and low-quality products would be a dead end.
In order to catch the changing market, she realized she needed to sell branded shapewear. She founded Ziyanlier, her own brand of shapewear in 2008 after exploring the market and building up relationships with certain factories.
It took her two years to go from adding some designs and ideas into the products manufactured by factories, to having her own design team and factory to create and make every piece of shapewear.