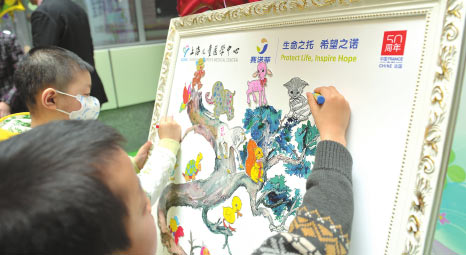 Children drew during the ceremony for Sanofi's donation of artwork to the Shanghai Children's Medical Center on Jan 22. Photos provided to China Daily
Child patients at Shanghai Children's Medical Center were cheered at an artwork donation ceremony by healthcare giant Sanofi on Jan 22.
Including a five-minute animated film and three watercolor paintings, the artwork inspired by Noah's Ark is one of 10 artworks presented last November in Beijing at an exhibition entitled "Life and Hope: Sino-French Contemporary Art Exhibition".
It expresses a respect for life and the realization of hope, said Wu Junyong, creator of the piece.
Six child patients were invited to add color to animals in the artwork with Wu and created a new ark based on their imaginations. Chen Nan, culture vice consul for France in Shanghai, also attended the ceremony. "I feel positive energy when I look at these children laughing during the donation ceremony," said a patient's mother.
Jiang Fan, Party chief of the SCMC, said the artwork "is colorful and full of childlike happiness".
"The Noah's Ark story is about hope and life which is similar to what SCMC is providing," she said.
"We hope SCMC could become a Noah' Ark that helps children escape disease and enjoy happy childhoods."
Jean-Luc Lowinski, senior vice president of Sanofi Asia and president of Sanofi China, recalled "coming to the SCMC in 2013 together with Sanofi's board of directors".
"I was moved by the vibrancy of life and hope in the children's drawings in the hallway."