Asian hospitality in Abu Dhabi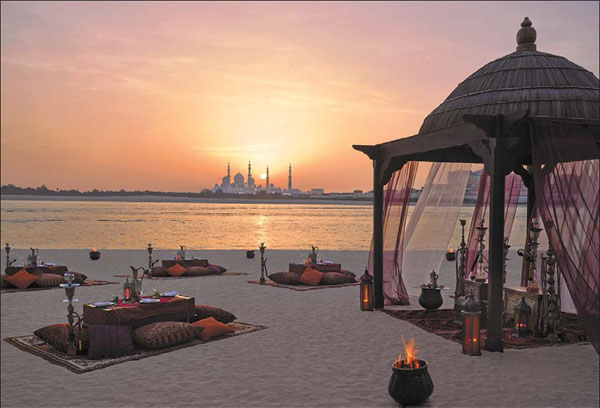 Dining on the beach at the Shangri-La hotel in Abu Dhabi with a view of Sheikh Zayed Grand Mosque. [Photo provided to China Daily]
Enjoy engaging moments in a magical Arabian style at Shangri-La Hotel, Qaryat Al Ber, Liu Weifeng reports
Eight years ago, an 8.5-hectare area of an Arabian desert island was transformed in just 24 months to somewhere that now shines on the international tourism stage.
Abu Dhabi as a whole is embracing the future by positioning itself as a world-class destination with tourist, business and cultural projects while maintaining a deep-seated respect for tradition and culture.
The namesake movie of popular American TV drama Sex and City was filmed in the fashionable and glamorous metropolis.
Shangri-La Hotels and Resorts eyed up the region's potential and geographic advantage in the Gulf a decade ago. The group opened one of its going-global hotels in August 2007, known as Shangri-La Hotel, Qaryat Al Beri, Abu Dhabi.
Rising from the sand in a magical Arabian style, the 214-room hotel overlooks the majestic Sheikh Zayed Grand Mosque.
"Shangri-La hospitality and the company's services are No 1 in Asia and we are reflecting the same hospitality services in Abu Dhabi by creating engaging moments straight from our heart," said Thomas Guss, general manager of the hotel.
Shang Palace, Shangri-La's signature restaurant, was named the best Chinese restaurant in Abu Dhabi, according to Guss, who worked at the Xi'an Shangri-La before taking up his current post.
He said his China experience helped him understand the Chinese culture and way of life and gave him in-depth knowledge of Chinese likes and dislikes and some of the stark cultural differences.