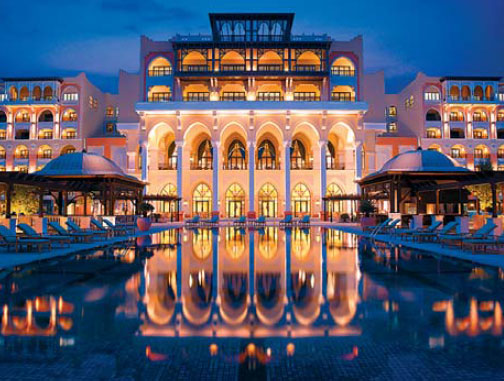 The exterior of Shangri-La Hotel, Qaryat Al Beri, Abu Dhabi, which opened in 2007. [Photo provided to China Daily]
"It offered me a new outlook on what true Asian hospitality is all about. It also greatly developed my skills in understanding of Shangri-La and its core values as an Asian company," the German hotelier said.
Chinese guests account for about 10 percent of visitors at the Shangri-La in Abu Dhabi.
They are made to feel at home during their stay with the help of in-room Chinese amenities. About 20 Chinese staff work at the hotel, mostly in the Shang Palace restaurant.
The Qaryat Al Beri area not only houses the main Shangri-La hotel but also Shangri-La villas with private pools, Shangri-La residences, the Traders Hotel and a souk with 62 shops. The property cluster is owned by the Al Jaber Group.
The majority of guests, for both overnight stays and dining, are local, according to the hotel.
"As a Chinese company, the hotel has been offering Chinese language services since it opened," said Twinky Posa, communications manager of the hotel.
For seven years in a row, the hotel has hosted dragon boating events on its private beach.
"The water sport has become a household term associated with the Shangri-La Hotel. It is our way to share the Chinese culture and engage with the community," said Posa. Hotel staff take part in the races as competitors and the local community turn out to watch.
The sport, which originated in southern central China, goes back 2,500 years.