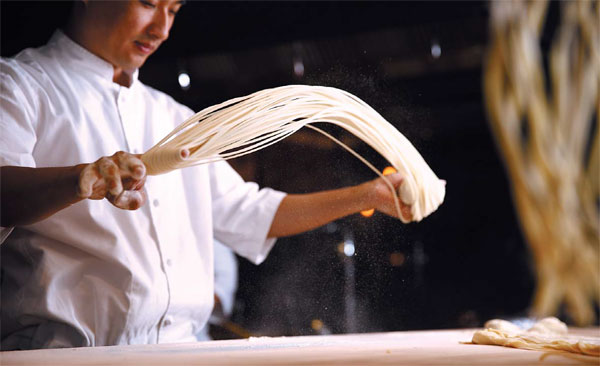 Hand-pulled noodles. Provided to China Daily
Handmade Chinese noodles, a variety of dumplings and other traditional countryside Chinese snacks are items that you'd least expect to be served at top-end luxury hotels.
But Rosewood Beijing will surprise you with its Country Kitchen, where the best of Beijing cuisine and an exquisite range of specialties from northern China are found, including some "lost recipes" of old Beijing.
The restaurant's main appeal lies in the large variety of local cuisines it offers along with a simple yet stylish ambiance.
On a recent visit, I was impressed by the lively open "show" kitchen at the center, where chefs were busy manipulating their skills to produce hand-cut, pulled, knife-cut or rolled noodles; and some dumplings.
The dining space is fashioned after the typical rustic Chinese style with furniture in pale brick color and in rich wood and terracotta finish. There are many oil paintings too. Other highlights of the place are a wood-fire oven for Peking duck roasts and a modern bar.
Chai Xin, chief chef of Country Kitchen and a Beijing native, says that roasted and crispy pork in wood-fire oven were very popular with wealthy people in Beijing before the 1950s. However, most of the recipes got lost and have not been cooked since.