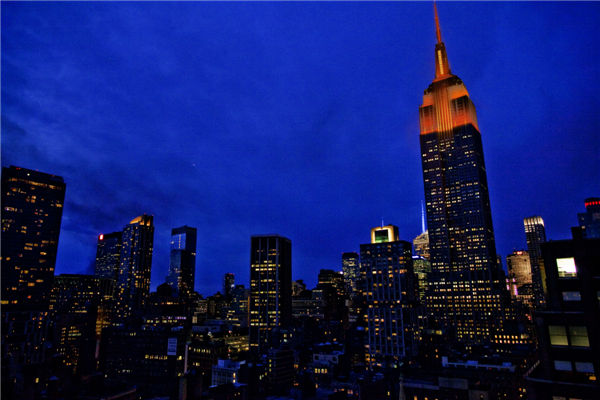 A design sketch of the light show at the Empire State Building in New York City. Photos provided to China Daily
Public artworks, a light show and fireworks created by Chinese artists will dazzle New York City, inviting locals to join Chinese New Year celebrations from Feb 17-24.

Part of the annual "Happy Chinese New Year" overseas activities backed by the Ministry of Culture, the "Fantastic Art China" program has brought together professionals from the China Central Academy of Fine Arts (CAFA), blending the creativity of contemporary Chinese art with Spring Festival traditions.
Installations by six artists will be on display at the Lincoln Center for the Performing Arts. At the Avery Fisher Hall, Xu Jiang, head of the Hangzhou-based China Academy of Art, will show his steel sculpture Symbiosis that combines nearly 400 sunflowers.

Zhan Wang, a professor at CAFA, will display his signature work Fake Mountain Stone and his colleague Huang Jiancheng, chief designer of the Chinese Pavilion at Shanghai Expo 2010, will present a 3-D animated video recreating the momentous painting "Qingming Shanghe Tu" (Along the River during the Qingming Festival).
At the David Rubenstein Atrium, Xu Bing, recipient of the 2014 State Department Medal of Arts in the US, will exhibit a hand-painted animation explaining the connections between Chinese characters and the temperament of people who write them.

Chen Wenling will discuss the symbolism of the era in "The Scene in the Future" while Lu Shengzhong, a CAFA professor of experimental art, will show both his "Little Red People" series and "Creativity Market" which is both a real market selling handicrafts from across China and a contemporary art piece.
"Chinese people worship nature. The Chinese culture bases its roots in the philosophy of nature," says Zhan Wang, whose "Fake Mountain Stone" series redefines classic Chinese gardens.

"I've tried to materialize people's appreciation of stones from nature, and to repeat the culture with the assistance of stainless steel.
"Spring Festival is how an agricultural country celebrates the New Year and its people's reliance on the land. It will be really intriguing to display my works during such a special time of the year," he said.