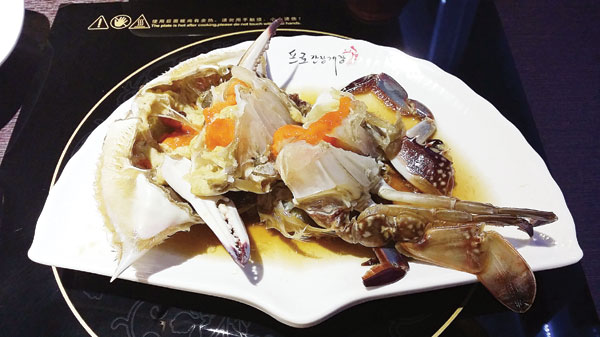 Tv star: Raw crab marinated in soy sauce is a favorite dish of a character on Korean drama My Love from the Star. [Photo by Xu Xiaomin / Shanghai Star]
South Korea couldn't be hipper thanks to the country's wildly popular television exports. Now a popular crab restaurant from the country is attracting legions of fans. Xu Xiaomin gets a taste.
The news that Pro Soy Crab, a Korean restaurant well-known for its crab dishes, was opening its first Shanghai outlet prompted a stir on social network WeChat.
The buzz is partly thanks to the popularity of a Korean TV show, My Love from the Star, in which one of the characters shops online for soy crabs, which left a deep impression on Chinese audiences.
In Korea, jiang xie or raw crab marinated in soy sauce is nicknamed "rice thief" because its special taste seduces people to eat lots of rice. So of course, the crab marinated in soy sauce (170 yuan for one) is the first thing I order in this restaurant, and I didn't even mind that the price was higher than local marinated raw crab. The carefully selected sea crab tastes extremely fresh and boasts rich roe. Not like local preserved crabs that are usually very salty, after being preserved in soy sauce, the crab here has a delicate, sweet taste. Because it is less salty, I feel it is easier to enjoy the freshness and original taste of the half transparent crab meat and its rich roe of bright orange (the restaurant only uses female crabs).
One way to enjoy the crab, as the actress Jeon Ji-hyun demonstrates in the TV series, is putting rice in the crab shell and using a spoon to mix the rice with soy sauce and crab roe. I tried the technique and I now understand the meaning of its name "rice thief".