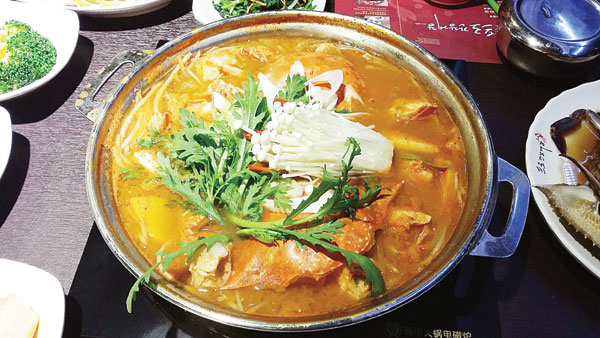 Hotpot: Spicy crab soup is delicious and mellow. hotpot: Spicy crab soup is delicious and mellow. [Photo by Xu Xiaomin / Shanghai Star]
Apart from this signature dish, the restaurant also serves many types of seafood such as shrimp and octopus. There is a page dedicated to octopus in the slim menu, both cooked and raw. Without a doubt, I prefer the well-cooked seafood in Korean-style hotpot.
I am a fan of Korean television. Watching an episode after a day at work really helps relieve stress and such programs frequently show people eating hotpot. Usually there is a hotpot brewing with spicy soup, assorted vegetables and seafood and actors can't wait to stretch out their chopsticks and say "mashissoyo" (delicious). Even watching at home, my mouth waters as the bright red soup and the sound of brewing makes the pot look fantastic.
But in Shanghai, I didn't have a chance to experience the hotpot anywhere despite there being several popular Korean restaurants in the city. Here in Pro, the spicy crab soup (280 yuan for a small portion) they serve looks exactly like the one in the program and tastes really good. Two crabs are cooked together with assorted vegetables such as onions, mushrooms, green leaves and pepper in the soup made of Doenjang (Korean soybean paste stew) and spice. The soup is delicious and mellow, it is also another "rice thief".
If you have good appetite, the menu also includes seaweed pie (100 yuan). To be honest, the pancake tastes a little bland and the flour is too wet and not chewy. If you still have space in stomach, you are better off ordering more rice to go with the soup. You may be surprised by the menu as it has no vegetables. The restaurant gives every table six cold dishes such as the famous kimchi which is so fresh and crispy I asked for a second serve, vegetable salad, spinach, bean sprout, broccoli and quail eggs. Though they are given for free, they are of decent quality.
As a newly opened restaurant, it has more diners than I expected. During the weekday dinner, 80 percent of tables were occupied. Maybe partly because of craze for Korean television, most diners are young local women. Portions are quite big, it is best to have four dinners to share the dishes.
IF YOU GO
Address: Room 1M, 137 Xianxia Road, near Loushanguan Road 
Tel: 021-6222-9918