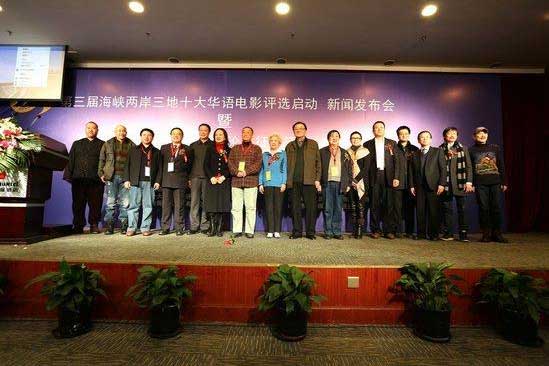 Filmmakers and critics from all sides of the Taiwan Straits gathered in Beijing to select top 10 Chinese films of 2014. [Photo/Agencies]
Filmmakers and critics from all sides of the Taiwan Straits gathered in Beijing to begin a major review of last year's Chinese cinema.
The third annual selection of The Ten Chinese Films, co-launched by the mainland's China Film Critics Society, and similar offices in Hong Kong and Taiwan, kicked off on Tuesday in a bid to pick the 10 best productions from all Chinese films screened across the country's theaters in 2014.
Initial appraisals will be processed in three regions between February and May, when the final round will be staged in Beijing. Hong Kong producer and director Ng See-Yuen is the president of the judging panel.
"2014 was a very productive year for cross-Straits filmmakers, so it wouldn't be easy to select the best 10," Ng says. "But we won't be judging based on box-office performances or just how entertaining they were. We'll set comprehensive criteria, focusing on storytelling and artistic approach."
According to Zhang Sitao, chief of the organizing committee for the event, the panel will include authoritative filmmakers and critics from the three places.
"The three regions share the same cultural roots, but their film industries were almost separated due to historical and political reasons for decades," Zhang says.
"However, the mid-1980s had witnessed creative trends emerge in the whole of Chinese cinema. Be they mainland films, or Taiwan and Hong Kong productions, they all began to gain international acclaim. That urged all Chinese filmmakers to gradually join hands and form what is today an integrated Chinese-language cinema."
He expects the upcoming event to help the film industry in the three places gain experience by comparisons and closer communication.
"The potential for cooperation is still huge in terms of topics and marketing," he says.
According to China Film Coproduction Corp, more than 60 percent of the mainland's coproduced films in 2013 were with Hong Kong. And the mainland's film authority announced in 2012 the exclusion of Taiwan-produced films from the annual film import quota.
The boom has also led to increasing academic interest in Chinese cinema. Results of the first Chinese-language film-study academic paper competition gathering essays from the three regions were also announced on Tuesday.
"Current academic studies on Chinese films are mostly for exploration of conceptions, which has lagged behind the reality that Chinese-language cinema has risen as a major counterforce to Hollywood," says Rao Shuguang, secretary general of China Film Association.
Related:
Yearender: Best selling Chinese films in 2014