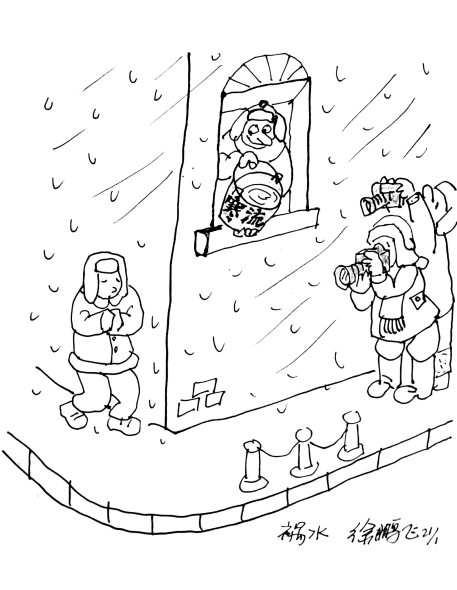 A cartoon work by Xu Pengfei
Cartoonists from at least three Chinese cities have used their brushes to express displeasure at French comic magazine Fluide Glacial's satirical portrayal of the Chinese people.
Last Thursday, the magazine's front cover featured a cartoon under the headline "Yellow Peril; is it already too late?"
In response, cartoonists from cities such as Guangzhou, Shanghai and Beijing have drawn up their own works in, some might say, misplaced anger.
Fluide Glacial's editor-in-chief Yan Lindingre reportedly agreed to print the cartoon in "revenge" against organizers of the 42nd Angoulême International Comics Festival, who were said to be dealing with the Chinese comics delegation and rejected an event proposal from the magazine itself.
Xu Pengfei, head of the Cartoon Committee of the China Artists' Association, said the comics are not only meant to show the cartoonists' displeasure, but also the humor and wit of the Chinese people, which he hopes westerners could appreciate.
Cartoonist Kuang Biao said it is right that Chinese artists stand up and present their own impressions of the French.
An exhibition planner said there are currently plans to display the Chinese cartoons during the festival, so French visitors, including cartoonists from Fluide Glacial, could share their opinions.
Local artists hope the cartoons would challenge the stereotype of the Chinese being pedantic.