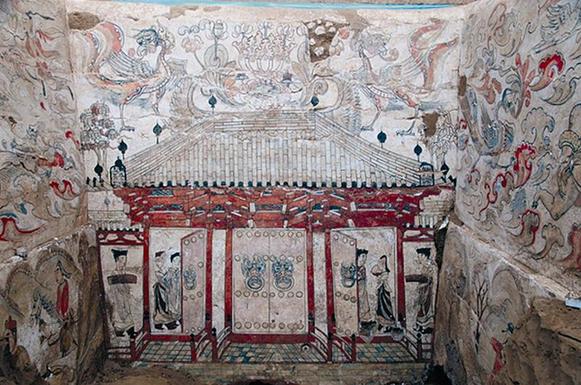 Life during the Northern Dynasties (386 AD-581 AD) is portrayed in a wall painting in North China's Shanxi province.[Photo/people.com.cn]
A noted archeological forum on the theme of "New Findings in Archeology in 2014" was held on Jan 9 in Beijing. More than 200 scholars and experts from research institutes, institutions of higher learning, museums and publishing presses attended this seminar. It was sponsored by the Chinese Academy of Social Sciences (CASS), and organized by the academy's Institute of Archaeology and Chinese Archaeology magazine.
Six key archeological findings made up the major part on the forum, including relics, tombs and graves from Gansu province, Guizhou province and Tibet province in West China to North China's Shanxi province.
A comprehensive summary of these findings reflects new features in archaeology. First of all, border areas have boasted remarkable achievements in the past year. China is known for its tribal culture over the long course of its history and many royal families once lived in these areas, which leaves broad room for later generations to explore. In comparison with other areas, archaeologists have easier access to valuable antiques here.