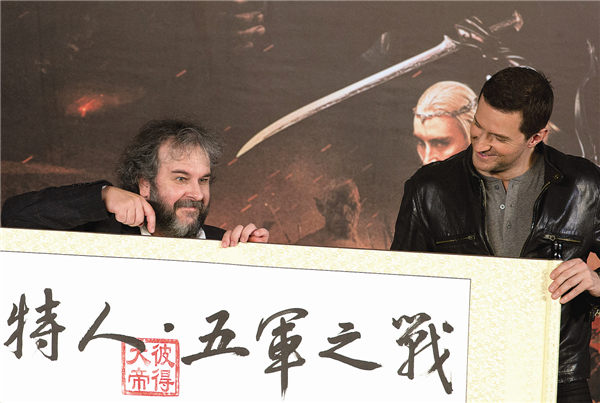 Director Peter Jackson (left) and actor Richard Armitage at a news conference. Photo provided to China Daily
Hobbit director Peter Jackson is the latest film icon to visit to China and say 'nihao', Xu Fan reports.
Following the recent footsteps of Johnny Depp and Robert Downey Jr, New Zealand director Peter Jackson is the latest Hollywood filmmaker to promote an upcoming movie in China.
The finale of The Hobbit trilogy, The Battle of Five Armies, will be released across the country on Friday. The film is adapted from British novelist J.J. Tolkien's fantasy best-seller published in 1937.
After 17 years on filming the The Lord of the Rings and The Hobbit franchises, the 53-year-old filmmaker has to say farewell to the mysterious "Middle Earth" on big screen. This time, Jackson shares the moment with Chinese hardcore fans, face to face.
On a tight schedule to promote the fantasy adventure in Beijing from a Monday news conference to Tuesday's red-carpet show, Jackson surprises Chinese reporters with his greeting "nihao" (hello), which he reveals took him one hour to practice.
His nickname "Peter the Great", given by Chinese fans, makes the director feel "embarrassed", but "honored".