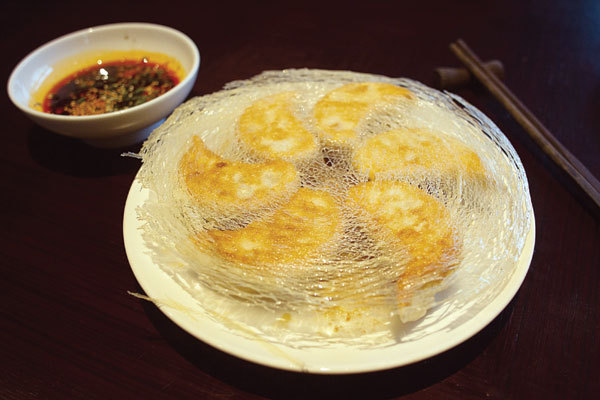 CHEF DU'S SPECIALTY: Guotie is a signature snack at Xindalu of Hyatt on the Bund Hotel. [Photo by Gao Erqiang/Shanghai Star]
Two beloved Shanghai street snacks, shengjian and guotie,each have their legions of fans, but which is best? Xu Junqian weighs up the debate.
It's a dumpling derby pitting two of the most beloved street snacks in Shanghai: shengjian (pan-fried bun) and guotie (pot sticker) against each other. Despite the fact that the rivals have more similarities than differences: the sizzling bottoms, the juicy pockets, the disagreement between the opposing fans has not been settled, if anything, it has intensified.
And the winning side has already been decided: shengjian, a ping-pong-ball-sized bun with a golden-fried bottom. The overwhelming majority of its devotees called it not only a treat for the tongue with the fluffy dough, crusty bottom and a burst of pork broth, a feast for the eye with the fresh green scallion dotted with black (sometimes white) sesame seeds on top, but also music to the ear. Like a well-drilled choir, the brittle crisp followed by each bite of the crust on every table rises and falls, and eventually turns the usually cramped eatery into a music hall.
The unyielding small band of partisans for guotie, on the other hand, claim their love a more delicate object. The crescent-shaped dumpling features a different texture and taste from its fatter variety, with the meat broth flowing from the waist to the hip of the dainty dumpling. It's also different from the Japanese or Korean style fried dumpling, for it boasts a mouthful of succulent broth.
"The broth doesn't come from the meat itself," says Du Caiqing, executive chef at Xindalu, the Chinese kitchen of Hyatt on the Bund Hotel (199 Huangpu Road, Huangpu district, 021-6393-1234*6318)."