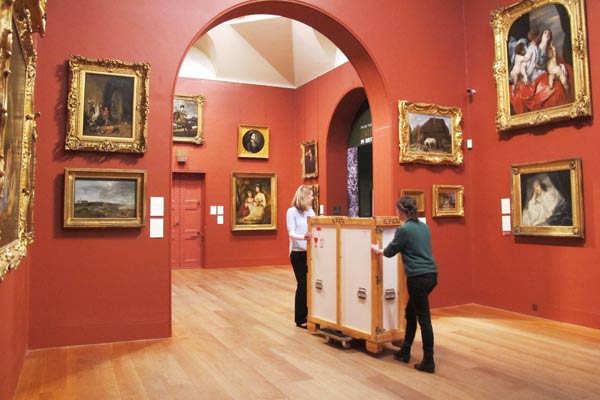 The exhibition, Made in China: A Doug Fishbone Project, features a commissioned replica of a priceless painting and is a play on the notion of Chinese manufacturing and the cheap goods it produces. Photos provided to China Daily
That's the challenge posed by a British gallery as it seeks to educate exhibition viewers about Chinese art, Cecily Liu reports from London.
The Dulwich Picture Gallery in London is set to open a new exhibition that invites the public to question their understanding and appreciation of real and fake art.
The exhibition, Made in China: A Doug Fishbone Project, opens on Feb 10 and replaces a priceless painting with a commissioned replica from China. Visitors and art experts are invited to try to spot the fake, which will be unveiled by the gallery after three months.
Fishbone, the artist behind the project, says the exhibition encourages the public to question what makes art valuable while alluding to the serious problem of counterfeits.
The replica was done by a studio in Xiamen, Fujian province, for 120 pounds ($182) after Fishbone sent over digital images of the painting.
"The quality of the replica is amazing in China, and plays a great role in helping more people enjoy great art. It is not counterfeiting as long as it is not set out to deceive," Fishbone says.
He says the replica market is legitimate and contributes greatly to helping art gain a wider public access.

European artists, in fact, have a long tradition of making replicas, and many great masters of art have followed this tradition by making copies of their own works or asking their students to copy their works, Fishbone says.
Fishbone says the title of the exhibition is a play on the notion of Chinese manufacturing, which produces cheap goods but struggles to impress with their quality.
"In the West, there is a fear of Chinese-made products flooding our markets, and many people are afraid of the rise of China," Fishbone says.

"This exhibition alludes to such an idea because a Chinese replica is being put in place of a masterpiece."