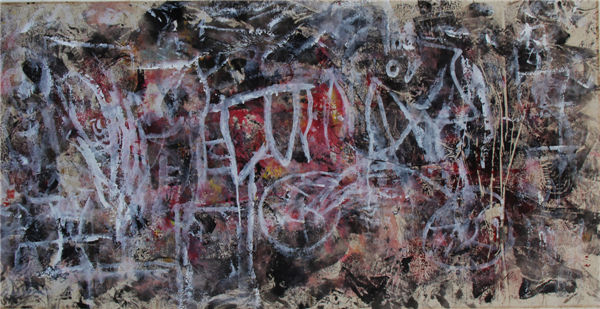 A painting by Xu Guoliang from the exhibition Four Dimensions. Photos provided to China Daily
An exhibition at Qinghua University's art academy offered a glimpse into the four-dimensional cosmos of three Chinese artists.
Four Dimensions, which closed on Sunday, included works covering intelligence, spirits, illusion and soul. The 85 paintings on display featured material by Liang Yi, Xu Guoliang and Xu Yinghui.
Liang, 52 and a native of Shanxi, is noted for his Buddhism-themed paintings, especially figurines and landscapes. His gongbi (meticulous brushwork) demonstrates a wild and casual style which strikes a cord with those who also come from the country's far northwest.
Xu Guoliang, from southern Hunan province, lavishes his ink strokes on visualizing the spiritual Shangri-la.
Xu Yinghui graduated as a bachelor of folk art from the China Central Academy of Fine Arts. His colored ink paintings showcase folk tales, from which he sources inspiration providing a basis for his own imagination.
The paintings can still be viewed at Fine Arts Equivalence at Shangpu Art Zone in Beijing's Songzhuang village.