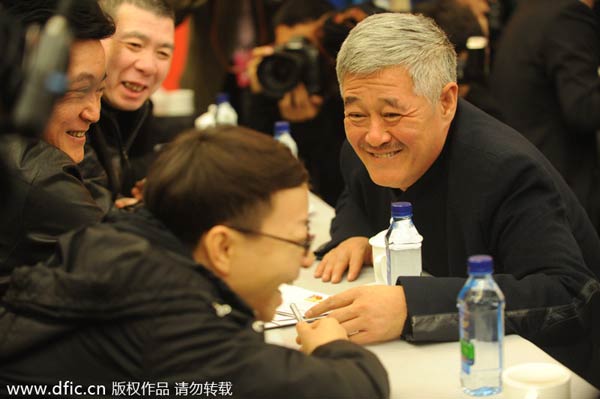 Chinese comedian Zhao Benshan (R) talks to other deputies during a panel discussion on the sidelines of the 2nd Session of the 12th Chinese People's Political Consultative Conference on March 7. [Photo/IC]
The mysterious fall from grace of China's most prominent comedian is testament to a culture mired in political innuendoes and the uncomfortably close link between politics and entertainment.
Zhao Benshan rose from the grassroots and, through numerous appearances on the star-making national television platform, attained the highest status possible for anyone in Chinese showbiz. He has an empire with a chain of theaters presenting the Northeastern style of standup and sketch comedy, and many seasons of rural sitcoms broadcast around the nation's channels. Whatever he said or did was reported, often in a glowing tone.
His troubles seem to have surfaced when he was conspicuously absent from the autumn pow-wow with President Xi Jinping, when 72 of the nation's "representative" artists were in attendance. A subsequent provincial-level meeting, again, did not extend invitation to him. His TV shows were canceled. The public did not believe this was a coincidence.
A hushed anticipation has been in the air since, with rumors flying like a snowstorm in Northeastern China. Not a week would go by without some grapevine news that Old Zhao is "nailed". Even a plot from a hit movie, about the villain hoarding 20 tons of gold bullion, was grafted onto him, which he humorously brushed aside by saying in a local stage show that he could not locate it after rummaging through his household.